Jenny Monroe talks to Brendan Quail of the RNID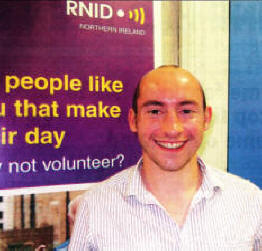 Brendan Quail, 29, is an Outreach Volunteer Coordinator for The Royal National Institute for Deaf People (RNID) in Northern Ireland. The organisation represents deaf and hard of hearing people, as well as their families and others who work with them or for their benefit. It is hoping to recruit 150 volunteers over the next year, and is particularly keen to hear from those in rural communities.
Brendan is responsible for three Trust areas including Lisburn. He has always been interested in the social care sector and has a Masters degree in international development. Before taking up his current position he spent time in India and Africa working as a volunteer coordinator.
I start at 8am in my office in Belfast. RNID offers a wide range of services, including communication, advice and information, care and employment services. We campaign in many areas and act to raise awareness of hearing loss and hearing health in the country.
Our focus is on taking services to people where they live and I work alongside a dedicated team of volunteers from all walks of life to make sure those who need support receive it close to home. I don't think the public are fully aware of the extent of the problem in NI. Almost 260,000 people here have some form of hearing loss' many of whom have not taken steps to address it. Most people are unaware of the isolation that hearing loss can bring and the impact it can have on personal relationships and working life.
A major part of my day is volunteer recruitment and management. There is a high demand for our services and we are always looking for volunteers to help. I also ensure that volunteers receive the support they need and regularly check in with them to make sure everything is going well. I am responsible for co-ordinating and organising projects across the South Eastern, Belfast and Southern Trust areas. RNID involves volunteers in a number of roles including information outreach and Hearing Aid Support. There are also opportunities to get involved in fundraising and campaigning activities. It is my job to make sure these events are well promoted and supported. The volunteers deliver excellent support to those with hearing aid queries. The hearing aid support team give assistance and guidance and offer advice to anyone adjusting to having an hearing aid. It is a great way of reaching out to people. I organise these events with the help of social services, community groups and audiology departments.
We also offer home based visits too so I organise volunteers to go out and make home calls with people who find it difficult to come to our events.
Volunteers are vital and do so much good work. I am always looking for new people to come on board.
They will be provided with training and support to enable them to give information and practical support to people in their local areas to help get best use from their hearing aid and to help them cope with their hearing loss.
Research has shown that 75% of people with hearing loss have problems with everyday things many of us take for granted such as meeting new people, using public transport or shopping, as a result 68% also said that they feel isolated. This is where volunteers can make a real difference to people's lives. You don't need any special skills just willingness and some free time. We would greatly welcome the support.
Our volunteers bring skills, experience, energy, enthusiasm and commitment to RNID. They come from a wide range of backgrounds, different age groups and a variety of cultural backgrounds.
I really enjoy my work - it is great working with the volunteers who help deliver support to those people who need it.
To find out more about volunteering with RNID, how to access information about outreach services or how to get support with your hearing aid, please call 9023 9619, email volunteeringni@rnid.org.uk or visit www.rnid.org.uk
Ulster Star
09/07/2010