Jenny Monroe talks to Chris Frieze of Oxfam Lisburn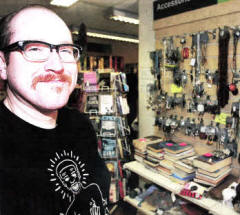 Chris Frieze, 36, is Co-Manager of the Lisburn Oxfam shop based in Market Street. He worked for a well-known gaming firm for years as a Development Manager but after recovering from an illness decided he wanted to change the direction of his career. He soon took up his current position at the Lisburn shop where he has been job sharing for two years. As well as working for Oxfam, Chris set up a DJ business with a friend. He lives in Strangford with his wife Karen and 6-month-old baby girl Daisy.
I get up at 7.30am and get ready for work. It takes me about 40 minutes to get into Lisburn. When I arrive I make a to-do list and carry out a floor walk, making sure the shop is ready for the first customers at 9.30am. While I do the banking and sort out any paperwork from the day before's sales and donations, another member of staff will serve the customers. I also sort out the volunteer rota.
As we are a smaller branch we don't sell furniture or electrical goods but we do stock clothes, accessories, homewares, books, music and lots of other bits and pieces. We rely on people dropping in to leave off donations. When a donation is received we have to sort through it and see what is suitable. We get lots of clothes so all of these need to be steamed and priced and then put out on the rails. We put dates on all the items so we know how long they have been in the shop. If after a while an item hasn't sold we will reduce it or maybe send it on to another store. It is very important that we rotate the stock on a regular basis so there is plenty of choice for our customers.
All the clothes are organised by size and style. We often receive one-off vintage pieces and a lot of brand new items too so whether you're searching for a designer dress, stylish suit or the ultimate accessory, we are the place to look. All the clothing, shoes, and accessories donated to our shops are carefully sorted to ensure you get good quality at a fair price.
We also sell 'Unwrapped presents' - these are alternative gifts people can buy friends and their loved ones. There's masses of choice - from goats and cows to teachers and health workers - you can even help build a bog if you like. Once a gift is selected you can choose to send a printed gift card that features a nice little picture of the gift, or if you prefer you can change the picture to suit a special occasion. We've got plenty to choose from. If you want to make your gift that little bit sweeter you can add a box of fair-trade chocolates or a little gift book that explains how Oxfam Unwrapped gifts help change lives. Oxfam Unwrapped gifts are sourced in the country they're used in wherever possible. So whatever gift you choose, you know it will make a big difference to
someone somewhere. I am also briefed on any events Oxfam are involved with and will give literature out to anyone interested. Every couple of months I have a meeting with the regional District Manager and every so often we will get to hear the experiences of people who have been out in other countries putting Oxfam's money to good use.
At the end of the day I brush up and make sure the place is in order before heading home. As well as this job I also run a DJ company with my friend - bespoke music solutions. We specialise in weddings and this is something I really enjoy. I am delighted that I can work for Oxfam knowing I am helping a worthy cause as well as working for myself and doing something I care about.
Ulster Star
06/08/2010