Jenny Monroe talks to Claire Hughes, chairperson of the Lisburn branch of Autism NI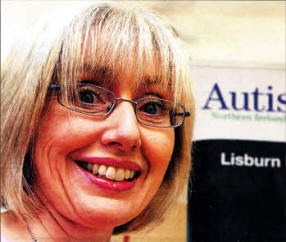 DR. CLAIRE Hughes is the chairperson of the Lisburn branch of Autism NI - Northern Ireland's Autism charity. This is a voluntary position. Claire, who works part time as a food technologist, is married to Damien and they have three sons aged 15, 13 and 10. As a mother of two children who are on the autism spectrum, Claire and her husband are only too aware of the benefits of Autism NI. When her second son was five years old he was diagnosed with autism. Today he is in mainstream school and has since been diagnosed with Aspergers with no learning disabilities. Claire's youngest child has been diagnosed with autism too and has severe learning disabilities.
Both myself and my husband work part time - this is something we had to do due to our family circumstances. When I'm not at work I will be doing all I can to raise awareness about autism, which I describe as an invisible disability.
When the children are out at their different schools I will be working at home liaising with other committee members. I could be drawing up press releases and contacting the local press as well to let the public know about upcoming meetings and events. Getting the word out there about our work is very important. The main areas are: family support, information and advice, training, awareness raising, helpline, political lobbying, research, policy change and strategic planning. We organise activities in the local area, such as regular fundays, summer schemes, and outings. We often have speakers at our meetings from a variety of voluntary or statutory settings, providing information and educating parents and professionals on a variety of topics. These activities vary depending on the time of the year. Our members decide what is of interest locally and work together to achieve that. We have links with a variety of other disability groups and forums in our area and are well informed about local services and professionals.
Lisburn Branch activities are focused on family events, monthly meetings, fundraising and the political campaign. Family events include monthly fun days held at Lisburn Leisureplex, and outings/events during school holidays. Monthly meetings are led by Stella Coghlan, our Vice Chairperson and held on the second Monday of the month in Warren Children's Centre and feature different speakers.
Jackie Girvan looks after our library of books. We couldn't do all this without the voluntary work of our Committee from Jackie baking the buns for meetings, to Caroline looking after the finances and Lexi booking the fun days with the Leisureplex - we work together as a team in our different roles
Fundraising is led enthusiastically by Anne Hayward and funds have been raised through a wide variety of events and activities. It is so important that children with autism get to go to these fun days as they don't necessarily get to go to things like this often. It is good for the children and their parents to mix with others who understand what they are going through. Sometimes it is difficult explaining to people that autistic children aren't just throwing a tantrum, but instead they are stressed or afraid. From my own experiences people have been too quick to judge my children not realising why they are behaving they way they are. I could be speaking to a social worker or family support worker from Positive Futures. They are very supportive and it is a good way for me to chat about my sons.
When parents are first told that their child has autism, it does come as a shock. This is why the different branches of Autism NI are so important. We offer these parents the chance to come and chat about our experiences and we can offer guidance. For example I recently got a mini trampoline for my house and since my youngest son has been using it he is sleeping much better. This is the sort of advice we share among each other. My youngest son especially needs a lot of sensory input and is on the go all the time. As he has no sense of safety awareness my husband and myself have to watch him closely. My eldest son is a great help to us and his brothers. It is a long fay and I am always exhausted in the evenings. Being involved with Autism NI gives me an opportunity to try and raise awareness and is something which means slot to me.
Ulster Star
23/04/2010