Jenny Monroe talks to Ian Milford, director Fusion Theatre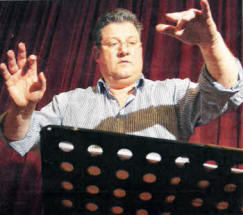 IAN Milford, an estate agent from Lisburn, is director of the award winning Fusion Theatre - a cross community drama group which has a philosophy of inclusion for all groups of people regardless of race, gender, physical ability, age or religion.
Ian has worked extensively in a lot of amateur productions throughout the years and was approached I0 years ago to direct Fusion's first ever show. After wowing the critics with their production of the Gilbert and Sullivan operetta Pirates of Penzance a couple of years ago - when they won no fewer than five nominations for all Ireland awards and won Best Director - the local youth theatre group is now staging another G&S operetta, HMS Pinafore. The show will run in the Island Hall until this Saturday February 20. Tickets are available from the Box Office on 9250 9254.
I work in an estate agents in Ballynahinch during the day and usually have a rehearsal with Fusion once a week. But coming up to a show we could be meeting two to three times. Rehearsals take place at St Patrick's church hall on Chapel hill.
Recently I have been very busy running about getting through as much as possible with the team, stopping to fix things up and recap on singing and dancing.
As director the first thing I do when planning a show is to read a whole piece through from cover to cover and then I'll picture the set. Once I've done that I think about how characters would be moved on the set. I will liaise with the choreographer who gives my her input into styles and dances. We have a good working relationship.
For the first six weeks I solidly teach music and lyrics and then I'll start the auditions process, appointing roles to the cast members. Then I tend to take a back seat while the dances are being taught. Next I help fix up acting and attempt a run through before the main dress rehearsals.
I was so determined that this would be a new, fun version that my son Matthew, one of Fusion Theatre's founder members, has been busy over the last few months writing a brand new orchestration specially for us.
During the actual performance I take on the role of musical director and conduct the show. We will warm up beforehand for about 20 minutes doing singing and physical exercise and team building activities so we are ready to go out as a team.
The humour and music is fun, lively, fresh and youthful, and the cast have been thoroughly enjoying rehearsals over the last few months. The new approach is guaranteed to bring a smile to your face, and have the audience leaving humming along to tunes that just don't go away. It really is a complete up to date piece without spoiling the original. It will suit a wide range of people and I really can't wait for it all to come together.
After all the performances are over I could sleep for a week. It really is exhausting. We normally have about two weeks off before we go straight back into rehearsals.
We hold two shows a year. Anyone who saw our take on Pirates of Penzance will know that Fusion don't do traditional, staid G&S, but apply a fresh, new, fun approach to the well-loved operettas, and I can assure everyone that HMS Pinafore has been given the same treatment.
The set is amazing and a big thanks must be given to the team and their parents who have been such a good support. This has to be one of the most enjoyable and rewarding roles - it really is so much fun and just a great thing to be involved in.
Ulster Star
19/02/2010