Jenny Monroe talks to James Graham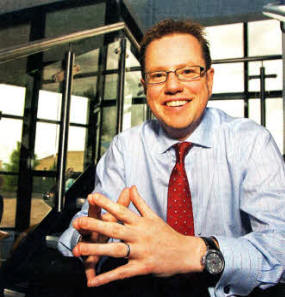 James Graham is the Sales Manager for Lisburn company Creative Composites, one of the UK's leading composite design and manufacturing specialists. The company has been a fixture of the Lisburn business community for more than 35 years and began life as part of the Boxmore Group of companies before a management buyout in 2000. Since then the company has gone from strength to strength having won significant contracts both at home and abroad and has firmly established itself as one of the composite industries key players. The company has, a fascinating range of global customers and manufactures a wide range of components which pop up in the most unexpected places. From covers for vending machines to automotive and bus components, fork lift trucks and solar energy panels, Creative Composites have worked with the biggest and best companies in the world to produce new products. James has worked for the company for almost six years, having joined in the role of Sales Executive. Prior to working with Creative Composites James studied Business Studies at University and spent a brief spell working for Ulster Bank's business banking division. The father of two grew up in Lisburn, but now lives in Templepatrick with his wife Judy and their sons Daniel, 4, and Alex, 11 months.
There really is no such thing as a typical day at Creative. Every day throws its own series of challenges and rewards at you. Whether that means meeting a tight deadline for a customer proposal or quotation' or pitching for new business with prospective customers, there are rarely enough hours in the day. Broadly speaking, I aim to spend half my time in the office and half visiting existing and new customers.
If I'm based at the office I usually get in around 8.30am, and the first thing I do is check my emails and respond to any customer queries. I then review the schedule of customer orders with our sales administrator Linda Poag, and ensure that this information is communicated to other departments within the company. One of our major customers is based in the USA, and we supply components to both their American and European manufacturing plants. Co-ordinating the supply of such a wide range of components means that the sales team must maintain close contact with our customers. Teleconferencing, regular visits and internal meetings all play their part in ensuring we can respond to our customers and provide a high level of service.
A large part of my job entails visiting existing and potential customers. This takes me all over Ireland, the UK and occasionally to the USA. Despite the travelling' which usually means early starts and late finishes' this is the best part of my job as I get the opportunity to visit a huge range of businesses' many of which are industry leading manufacturing organisations.
A good example of this is Lotus Cars, with whom we have recently won an exciting contract and now supply key components for their award winning high performance sports car' the Evora.
Creative Composites are unique in their ability to offer a wide range of manufacturing processes and capabilities. This has led to work with customers who operate in many different industry sectors' resulting in a varied and challenging workload for everyone at the company.
It might be a vending machine project today, but tomorrow it could be solar energy panels,
fork lift trucks or an exciting new proposal for an automotive customer.
My job provides me with an exciting challenge. Creative Composites is an ambitious company and we are continuously developing our relationships with our existing customers, as well as seeking out new opportunities with new customers. My plan is to build on this growth over the next few years - something I am looking forward to doing. It is a competitive market to be working in and is tough at times but also very rewarding. Outside work' I like to relax by spending time with family and friends. I have always been a keen rugby follower' and despite hanging up my boots a couple of years ago, I like to get to Ravenhill to support the Ulster team as often as possible.
Ulster Star
02/07/2010