Jenny Monroe talks to Jason Kennedy of North Design Automation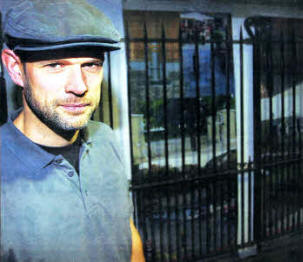 JASON Kennedy, 37, is the Managing Director of family run business, North Design Automation, which is based in the Lissue Industrial Estate West. He has 20 years experience in electrical and security installation and started his firm dealing in perimeter security for businesses and private homes in 1996. Before this he had spent time in Rome working with automatic systems.
Jason is married to Francesca, originally from Italy, and they have a young son called Joshua.
I normally wake at 6am and I'll do some work in my office at home before heading to my other office in Lissue Industrial Estate. As Managing Director I over see the running of the company and I could be out meeting with clients and installing our products or in the office answering calls and doing paperwork.
When I first arrive I'll go through any emergency calls and then start to allocate an engineer to the different jobs. Regularly I have team meetings to make sure everyone is briefed about what is going on. The engineers then go out to see the different clients. We specialise in the design, manufacture and installation of automatic gates, bollards, automatic barriers, access control systems; and we provide a professional and bespoke service to customers around the UK and Ireland we also have secured our first contract in France. It is something I am very passionate about.
Clients call requesting information about our different products and I am happy to then arrange meetings with them. Our products and services are available for both residential and commercial sites.
One of our most popular products are our automatic gate systems, with the level of crime and robberies at what it is these has proven to be best deterrent. When I get a call from a potential client I like to survey the site, sit down with them and get a good idea of the level of security they require.
Then I go away and work on providing the best possible solution. We offer metal and wooden gate systems, swinging or sliding. Rising bollards are becoming more and more popular as a deterrent against car theft and are also widely used for property and building protection. We provide a full range of bollards from manual to fully automatic satellite controlled anti-ram models for both the commercial industry and the standard private entrance.
As well as bollards, we have an extensive range of electro-hydraulic rising barriers for both light and heavy duty use and we can install CCTV surveillance. This is becoming one of the most powerful security tools of the age, putting a face to thousands of people every day. CCTV footage can provide vital evidence in court hearings, and it offers
added protection to people in any populated space. In a Commercial environment CCTV can be used both internally or externally to watch over and protect staff and equipment. Putting in CCTV provides a proven deterrent in theft and vandalism. In Domestic premises CCTV is excellent for identifying callers at your front door before allowing them access. You could also have a camera installed to monitor your garden, garage, or driveway.
I try to finish work around six then I go home and relax with my family. I enjoy my work. It's good being my own boss but I also like being able to find solutions to people's security and engineering problems. We have a strong commitment to quality of work, speed of response and client satisfaction and this has ensured continued work.
https://www.northdesignautomation.com/
Ulster Star
26/03/2010