Jill Moore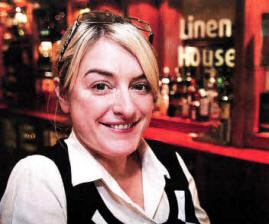 JILL Moore, 36, from Belfast is the General Manager of the Premier Inn Hotel located on the Hillsborough Road. When it opened a year ago it made history as it was Lisburn City's first hotel.
The 60 bed hotel which also boasts an adjoining 200 seat family restaurant and onsite carpark, represented a £5 million investment for the area.
Jill studied modern history at Queen's University and as a student worked in various restaurants before becoming General Manager of restaurants in Belfast Odyssey. She then was successful in her application for General Manger of Whitbread's Carrickfergus hotel and when the company decided to open a hotel in Lisburn she jumped at the chance of running it.
Every day is very different for me and depends really on the occupancy. I am responsible for the overall operation of the hotel including the restaurant in the Linen House. I am always busy but there is a great team of 8 managers who are each responsible for different areas and will keep me up-to-date with everything that is going on.
Usually my day starts at 8am during the week. I like to wander around the hotel chatting to guests at breakfast. Once the breakfast rush has settled I will go to my office and start working on sales figures, attend departmental meetings and evaluate occupancy levels. I could be answering emails and responding to messages from head office. Whitbread has big company standards and it is vital that they are adhered to and it is my job to ensure this in Lisburn.
I will remade aware of HR issues and will phone head office if ads need to be placed in local press or if staff are needed. Head office will take care of this for me.
I have to forecast sales and set labour targets. I run my eye over rotas and ensure there's enough staff to cope with busy periods. There is a huge focus on making sure our standards are excellent in health and safety and I will check audits for each department making sure they are all keeping to their check list. Occasionally I do spot checks especially in the kitchens. Things can never slip when it comes to standards and the Managers are kept busy making sure everything is running smoothly. At Premier Inn we pride ourselves on comfort and quality
At lunch I will do the same as breakfast time and wander around making sure the guests and customers dining in the restaurant are happy. It's very important to get their feed- back.
As we are part of the NI and Dublin region we hold monthly regional meetings when all the General Managers meet. It's great as if there's any issues we can help each other out. Each has a specific areas of expertise which is good. Occasionally I have to head to England for conferences and training meet- ings. I like being out and about talking about the great hotel in Lisburn and the wonderful team I have behind me.
In the afternoon I could be out and about in the local area trying to get business. I visit new businesses and clients and I also have to check out the local competition. I work closely with the local council too.
I do tend to stay a few hours over tea time and then I generally leave after 6pm but again it depends what is going on in the hotel. Lisburn has been a great success for the company and I am delighted to be part of it. We have received so much support locally and now have established a regular clientele. It is a delight selling this business and I really enjoy it because I never get bored. Occasionally I do have to work late nights but the hard work pays off and is definitely worth it and all in all I do have a good work/life balance.
Ulster Star
31/12/2010