Joe O'Neill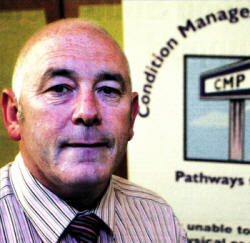 JOE O'Neill, 48, is the Programme Manager of the Condition Management Programme (CMP) for South Eastern Trust. He took up his current post in July 2009 and prior to this he was Operations Manager of Cancer and Palliative Care for the Trust. CMP is one of the choices available within the Pathways to work scheme provided via your local Job Centers run in partnership with the South Eastern Trust. The programme is a regional service, available within in each trust area. The CMP is funded by the Department of Employment and Learning (DEL) and the performance management of the programmes are overseen by the Disablement Advisory Service (DAS). Joe lives in Downpatrick and has two grown up children. He is married to Ruth. Joe's qualifications include: an MSc in Health Services Management, BSc(hons) in Professional Development, Diploma in Nursing (Lond), Diploma in Community Nursing ( Mental Health), Registered Mental Health Nurse and Registered General Nurse.
I share my time between two offices one in Lisburn and one in Ballygowan. Most days I am in work for 8.00 am. A cup of tea and I check emails and make / return phone calls and deal with general office issues. I am responsible for coordinating and organising the programme.
CMP is available to clients who are in receipt of a qualifying benefits such as, Incapacity benefit (IB) or Employment Support Allowance (ESA). Referrals are generated following discussion with the clients, Employment Advisor within the Job Centre. This means I am out and about at the different Job Centre's within the Trust area discussing how clients are progressing and making sure everything is running smoothly.
CMP is considered one of the schemes which facilitate return to work for individuals with chronic health problems. The programme offers education support and advice on an individual basis and is aimed at helping people manage their condition and think about the possibility of returning to work. The CMP team consists of various specialist healthcare professional who have a wide range of experience of health and disability issues. Depending on the client's needs they may meet one or all of the team members : Physiotherapist, Psychologist, Mental health nurse or an Occupational Therapist. The CMP can, help people better understand and manage their condition, help improve ability to manage day to day activity better and help explore future work opportunities. I am responsible for making sure timescales for a response to referrals set by DEL and Disablement Advisory Service are met.
The CMP is an entirely voluntary scheme and the client can opt out at any time during the 12 week programme without any penalty. It offers education, support and advice on areas such as: Anxiety and Stress management, Confidence Building, 1mproving self esteem, Pain Management, Developing a healthier lifestyle, Physical Health and exercise, Decision Making, Considering the type of work that may suit you, Positive thinking and Managing depression. CMP does not provide medical or "hands on " treatment. It takes the form of short-work focused, cognitive and educational interventions aimed at helping clients understand and manage their conditions.
I manage a team of 15 staff and as well as the general running of the programme I regularly hold supervision sessions with the staff to go through professional and personal issues. This is a way of ensuring the service is delivered safely and effectively. I am currently in the process of securing a single office in order to centralise the whole team. The aim of the programme is to increase the % of people getting back in to the work place by helping them manage their health condition.
My appointment into this post was a change of direction in my career and it provided a welcome challenge. It was exciting to bring my skills and experience into a new post and I have gained a lot of job satisfaction in getting people closer toi the work place.
Ulster Star
03/09/2010