Jenny Monroe talks to Kim Smart of North Down Marquees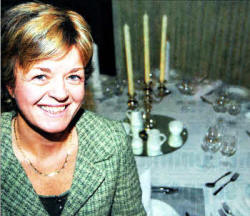 HILLSBOROUGH woman Kim Smart is the Event Manager at North Down Marquees based in Carryduff. With over 25 years experience in the event industry, North Down Marquees have grown to become Ireland's leading supplier of marquees and event services.
I usually start work at 9am which means leaving my home in Hillsborough around 8.30am. During the winter months I am focused on getting things in place for the forthcoming Summer season, so my day is from 9 - 5pm. I'll start by checking my emails and planning what I need to complete that day, whether it be phone calls, quotations for wedding or corporate clients or site visits. No two days are ever the same especially as weddings and corporate events can take place at any time, anywhere and in any season.
Once I have sent a client a proposal I will visit the site to measure up, assess the available access and discuss the client's and event's needs to make the most of the location.
North Down Marquees business is divided into four 'divisions which include marquees, catering equipment and furniture hire, event electrics and luxury mobile toilet hire. Clients can hire directly from any one of our divisions. But more importantly, this structure enables us to provide a 'one stop shop' approach for any event.
Clients have a choice of interior finishes in the marquees, furniture, tableware, linen, dance floors, internal and external lighting and our extensive range of state-of-the-art mobile toilet systems.
So there is a long list of things to talk about; from where to hold the drinks reception and what shelter may be required, right down to the basics such as where to site kitchen and toilets annexes to allow ease of access for servicing the function.
The unique flooring system ensures a secure, level base even on difficult ground. When I go back to my office I draw up a rough estimate for the client and an initial CAD layout of the marquee.
I'll also discuss the electrical requirements with our Technical Services Manager. The lead time for events varies but we communicate with the client every step of the way to get it just right before we finalise arrangements.
We are seeking to constantly improve performance and are committed to the highest standards of customer service. We take a professional approach to all aspects of our business and are passionate about supporting the development of a diverse range of community events and celebrations within Northern Ireland. We strive to set new standards for ourselves and within the industry. We are often on site days, or even weeks, before an event and as you can imagine planning is key. So when a booking is confirmed I put it into the planner so all the different managers know how that week is shaping up for each department.
We regularly invest to ensure all plant and equipment is compliant and fit for purpose. The company has invested over £400,000 in equipment over the last three years. We are the only marquee company in Northern Ireland to have a cover washing machine, ensuring that all our marquee covers and internal linings are delivered to site in good condition.
I really enjoy my job. It's a pleasure to work with so many different people with different ideas and diverse events, and see them all come together.
Ulster Star
22/01/2010