Jenny Monroe talks to Laurent De La Torre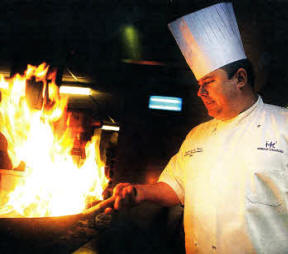 LAURENT De La Torre, 43, a French executive chef for in-house catering company Mount Charles. He is based in Lighters restaurant in the Lagan Valley Island complex overlooking the River Lagan. He moved to Northern Ireland from France 14 years ago and now lives in Portadown with his wife Marcia and their four children. He has worked in many kitchens across France, Edinburgh, London and Belfast and started working locally last September. Before Lighters Laurent worked at Parliament Buildings at Stormont.
A typical day for me begins at 6.45am when I leave my house. I like to be at the restaurant for 7.15am as that gives me time to prepare for the deliveries of meat, fish and vegetables which arrive at 7.30am. We use locally sourced ingredients.
I sort through all the fresh produce making sure it is all good quality and then I put it away in its correct place. I check all the fridges and make sure everything is ok. There are usually three chefs in the kitchen with me but if we are catering for a large event more will be brought in. After speaking with the General Manager I update the team on any upcoming events.
Next I look over the menu and then start to bake scones, bread and sausage rolls. I could also be preparing finger buffets for events in the Civic Centre. Every morning I bake to make sure there is a fresh selection of food for the customers at breakfast.
After this I start to make fresh home made soup as well as sandwiches, light lunches, sweets and prepare the food on the a la carte menu too. The menu has plenty of variety to suit all tastes and budgets. I recently introduced a 'bean pot' menu and this has proved very popular with the customers. It is a quick, tasty and affordable option. We have a lot of business people in for meetings so I always trying to design menus which accommodate our clientele.
The General Manager keeps me notified of corporate bookings and functions. I could be organising food for weddings or events in the Civic Centre. If I am catering for a wedding I sit down well in advance with the wedding party to design their menu. I like suggesting ideas for menus. I also cater for pre-show events in the Civic centre. With the Island Hall and Studio Theatre based in the complex customers are just moments away from their theatre seats making it an ideal venue to wine and dine pre-show. We have also started to hold special gourmet evenings. This is something I enjoy planning for. I try to create the menu for these evenings to cater for all ages and tastes and I always hope there will be a full house on the night, to enjoy the options on offer and the atmosphere.
Once the lunch rush is over it is a matter of cleaning and preparing for any events there may be that evening. I could also be ordering food and speaking with suppliers and trying out new recipes. If there aren't any functions I usually finish between 5pm and 7.30am. and head home to relax with my family
I really enjoy my job and pride myself on my work and am passionate about making home made food. Working in a kitchen can be fast and furious. It is well worth it when the customers enjoy their food. I put my name to everything that leaves the kitchen so It has to be only the best as I take pride in my reputation. Working here has been a big challenge but with the support of Mount Charles and the Council I have really settled in at Lighters. It is a pleasure to be surrounded by such a supportive team.
Ulster Star
28/05/2010