Jenny Monroe talks to Lindsay Atkinson, sponsorship manager for BT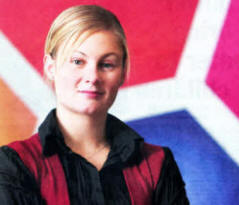 Lindsay Atkinson, 26, is the sponsorship manager for BT with key responsibilities for the BT Young Scientist & Technology Exhibition 2010. She studied business information technology at Queen's University and after a year out she applied to the BT graduate scheme, working as a marketing manager for a year before moving into her current role. The exhibition itself is the final stage in the competition which is open to all second level students from Ireland, both North and South. As well as the 520 student projects on display, there will be a further four exhibition halls filled with science and technology based exhibits and entertainment, making it a thrilling event both for those who enter and for general visitors. Pupils from Wallace High will be attending this year's exhibition which will take place at the RDS from Tuesday 12 - Saturday 16 January.
My role is broken up looking after the key BT sponsorships although half my time is devoted to the BT Young Scientist & Technology Exhibition. The importance of encouraging students to take science and technology subjects at second and third level education cannot be overstated. The future economies of this country and indeed Western Europe are dependent upon its success. By getting behind the BT Young Scientist & Technology Exhibition, BT is demonstrating that business can make a positive difference to the future of a country and its young people. The exhibition requires a huge amount of work both prior to and during the event and I play an integral role in its continued success. This year is a particularly exciting year for me and the team - as we have seen a 66% increase in the numbers of NI entries from schools across Northern Ireland. The event, now in its 46th year, is open to all students aged between 12-18 years, across the island of Ireland. The BT Young Scientist & Technology Exhibition aims to foster interest in STFM (Science, Technology, Engineering and Maths) subjects amongst students at an early age. Graduates in STEM subjects are essential to the future economic prosperity of Northern Ireland and the exhibition encourages students to engage in these subjects in a fun way.
The record number of NI entries this year shows the rising interest the exhibition now enjoys among both students and teachers across Northern Ireland. I could be in the office updating and managing the content of the website and reviewing our social networking sites or out and about in meetings with our advertising agency. I've been working closely with an advertising agency on the marketing campaign which launches in the new year and I've been sorting out the logistic side of things for the exhibition too. How BT is presented at the exhibition is very important and I am in regular touch with designers. They take me through their ideas and then we decide on what we want. When the actual exhibition is running I will be coordinating the project and managing our volunteers and sponsors. When it finishes we take a few weeks to close down and draw up reports and add to the website. Then we start into planning ahead for the next year. The website will need to be revamped and I will get back into my role with working with schools. The best bit about my job is seeing all the hard work and effort coming together. Its great getting to work with the students who have so much energy and we all feed off it.
As my job is so varied I can never get bored and I really like the buzz it provides.
Ulster Star
08/01/2010