Lisa McAlinden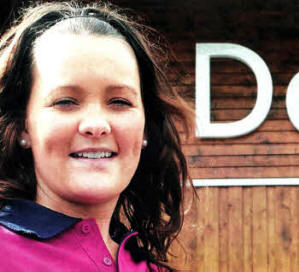 LISA McAlinden, 26, is Human Resources Manager and Events Co-ordinator for the new Dobbies Store which recently opened on the Saintfield Road.
Lisa who has a degree in HR has just celebrated her first wedding anniversary with her husband David. They live in Belfast and have a puppy called Tillie.
In the morning I drop off my husband at his work and then I drive to Lisburn for about 8.15am. I then start checking my emails.
In my HR role It is my job to organise staff inductions, training, sorting out uniforms, discussing Dobbies' expectations and values, organising contracts to be signed, doing paper work and the pay roll, time sheets, holidays and other staff related issues. At 9am there is a management meeting to discuss the day ahead.
In my other role as Events Coordinator I work with my manager to plan and coordinate in-store events, community and charity activity for the store that will benefit the local community and promote the Dobbies' Here We Grow campaign. I am the main point of contact for the store's community campaign. I am currently developing a network of contacts in the local community: i.e. with local schools, charities, community centers, community groups (scouts, OAP groups), hospitals or care centers. This means I am regularly out and about identifying opportunities that will enable the store to play a positive role in the area. It's great to be able to get involved in the community and to meet new people. The Here We Grow community scheme supports people or projects that get local people into their gardens and growing. I am heavily involved with this and I go through all the applications for the campaign and will identify suitable projects and organise to go out and see how we can help. It is very popular so I have to manage the budget. Barbour Nursery is one of the first projects we will be helping and we have got involved with the Northern Ireland Children's Hospice too. All of our help is free of charge.
I work with management to agree a programme of in-store events and community activities and I follow briefs from our Head Office regarding community and event activity in the store including the Christmas Charity event, Santa arrival and other campaign events such grow your own workshops. This means that I am the main point of contact for all in-store events and community requests. I field all community requests - answer local community and charity requests. It is up to me to ensure all community activity is safe and legal.
Another event that I am responsible for is the Little Seedlings Club for children aged 4 to 10. It runs the first Sunday of each month and is free. It is a first come first served event. Children love this club and it's great fun as they get to learn about plants, wildlife and the environment and flowers and see how to plant something every month. The club events vary each time and the first event will take place on October 3 at 1.30pm. I am extremely passionate about my job. I have strict lists and tick off each thing as they are done. In my line of work this is vital as I have so many deadlines to adhere to. At 5pm I will have a staff meeting to review issues and then I will head home. I spend time with my husband, walk our dog and meet with friends and family.
This really is an exciting time and no two days are ever the same. It is a great challenge and a joy to work for a company like Dobbies.
Ulster Star
01/10/2010