Jenny Monroe talks to cordon bleu cook Lizzie Kennedy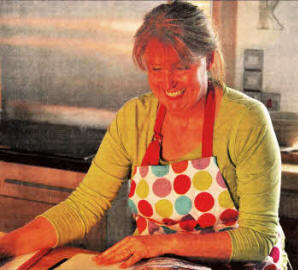 LIZZIE Kennedy from Drumbo has decided to return to what she loves and knows best -teaching cookery. Lizzie ran the successful 'Who's Cooking' cookery school before moving to live in Washington DC in 2006.
Now back home 'Lizzie's Kitchen', based in her home, is located close to Drumbo village. The main kitchen has great views over Belfast and small groups cook together in a relaxed, informal setting during the day or evening. Lizzie has a cordon bleu diploma from the world famous Tante Marie School, graduating as the top student in her year. She also has many interesting stories to recount from her years of entertaining within the diplomatic community. The local cook is married to Des and has two grown up children and two step children.
After coming back from Washington I decided to return to cooking. Now I can fit my business around my lifestyle which is great. I run day, evening, party, private and team building classes on a regular basis. There's a maximum of eight people in each class. People contact me to arrange a date - most of the classes are held at my house but occasionally I do go out to people's homes.
My style is modern and fresh, using quality, locally sourced seasonal ingredients as much as possible. I have two kitchens and both are very homely and not commercial or clinical, which makes it less intimidating for the students.
Preparation is key and a few days before a class I confirm numbers with the organiser and draw up a menu and list of ingredients and equipment that will be required. I ask the different groups if there is a particular theme or type of food that they want to cook and find out if anyone has any allergies or dislikes. Some classes are booked in for half days and others for a full day. A full day's class runs from 9.30am to 5.00pm and that starts off with coffee and home-baked pastries giving us time to chat and run through the recipes. Working in pairs, using both kitchens, we start preparing lunch, which is enjoyed with a glass of wine. In the afternoon we have a cup of tea whilst baking something delicious to take home.
An evening class runs from 6.30 to 10.30pm. Nibbles and drinks are waiting for the students on arrival, giving us time to get to know each other and talk through the menu. We then start preparing three courses to enjoy after all the hard work. I always tell people coming to my kitchen that there is no need to worry about their experience, there's plenty of one-to-one guidance and time to ask questions, acquire knife and presentation skills, along with shopping tips. My classes are for both the enthusiastic beginner and the more confident cook, I like to think of myself as a cook not a chef - no tantrums here if something goes wrong, in fact that all
adds to the experience, it's knowing how to put things right that's important.
The classes are very relaxed and I enjoy sharing my cooking tips with others. If something burns or curdles I don't panic as these are the sort of things that happen at home and I show ways to correct the problem or else suggest that we simply start over.
When the food is prepared the students and I sit down to enjoy it and talk about the lesson. Once the group leaves I start to clean up before putting my feet up.
I really couldn't ask for a better job. It means so much to me that I can spend so much time doing the things I love as well as demonstrating cooking skills with others. I really am in a fabulous position and delighted that I can work from home.
Ulster Star
04/06/2010