Jenny Monroe talks to new Miss Northern Ireland, Lori Moore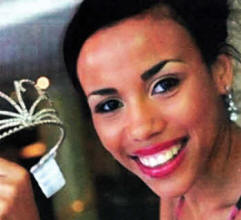 LORI Moore is the new Miss Northern Ireland. 19-year-old Lori, who hails from Blacks Road, emerged from the 25 finalists to take the crown at the glamorous final at the Europa Hotel last month. The former Hunterhouse College pupil is a member of Fusion Theatre in Lisburn. Lori only decided to enter to competition to "occupy the summer", however, she now has a diary filled with appointments for the next year, including an incredible five week trip to Vietnam in October for Miss World. The delighted teenager, who is also a member of Lagan Valley Athletics Club, will now take a year out from her studies in Advertising Management at Northumbria University to concentrate on what will be a busy year as Miss NI.
I haven't stopped since I won the competition. I just can't believe it' it still hasn't sunk in yet. So far everyday has been different. I got to bed at 2.30am after the final and was up again at 5.30am for a photo-shoot and then I helped to present prizes at the NI Photographic Awards. It has been all go and I have so many things planned.
The Alison Campbell Agency takes bookings from their clients who want Miss Northern Ireland to do a job for them. I have been working very closely with Alison and her staff discussing up and coming assignments.
I realise that I have to be very organised and make sure I am on time for all of my engagements. As part of my prize I received a car for a year so this will be very useful to travel around Northern Ireland carrying out my duties.
Some days I have back-to-back jobs and other days I might only have a couple of jobs in my diary. I like to be busy and am enjoying every moment as my predecessors have told me that the year will just fly by.
My job involves attending press/media launches, photo shoots' catwalk shows' promotional activities' castings and charity work. I will be working very closely throughout the year with the Children's Hospice.
I have so many functions and different types of jobs to carry out so I need quite a big and varied wardrobe. My sponsors are a great help and have provided me with a lot of clothes and accessories. I have lots of vouchers for make-up and cosmetics which is great because I will be trying to look my best for all of my jobs.
When I won Miss Northern Ireland I also gained direct entry to the Miss World final towards the end of the year. Its an all expenses paid trip to Vietnam and I am really looking forward to representing our country.
Spending a month away will be very exciting. Although it will be hard work competing against 120 other girls, but I will try my best and see what happens. I will have to start
planning for the different categories I can enter.
In my spare time I like to take advantage of one of my Miss Northern Ireland prizes - using the facilities at the Culloden Elysium. I have a year's free hairdressing, spray tanning and manicure treatments' a year's membership at a beauty spa' and a personal trainer. I am really looking forward to being pampered when I don't have any jobs.
I am a member of Fusion Theatre in Lisburn and will still be keeping in touch with them to find out what is happening and supporting their shows.
I am having a wonderful time and intend to make the most of my year. The past few weeks have been incredible and I'm sure there is so much more to come.
Ulster Star
16/07/2010