Jenny Monroe talks to Mel Pengelly of Federal Security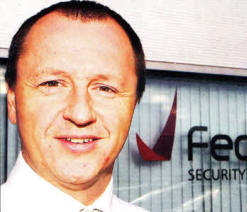 MEL Pengelly is the newly appointed Business Development Manager of Federal Security, which has its Northern Ireland Headquarters in Lisburn.
After the recent acquisition of Federal Security by Noonan Services Group, Federal Security are now preparing for a large expansion program. Federal Security is one of the largest security companies in NI and plans to expand dramatically over the next three years by taking on more retail and commercial guarding, CCTV and monitoring services. Originally from a village near Liverpool, Mel now lives here with his wife Francesca and baby boy Ethan. He started his working career in the catering industry before deciding on a career change and becoming the owner of a CCTV company. This is how he became involved with the security industry. He took up his position with Federal Security this month.
I am normally awake for 6 to 6.30am. I'll iron a shirt, eat some breakfast and take the dogs for a walk before heading to our base at Lissue Industrial Estate for 8am.
When I first arrive I have some coffee. I share an office with Ian Melanophy, Head of Operations - we work very closely together and spend a good part of the morning planning the day ahead. In my role as Business Development Manager I am heavily involved with marketing the firm.
Federal has a team of over 3000 dedicated professionals who take pride in mitigating security risk in businesses and organisations throughout the country. The firm plans to grow by £3.5m by the end of 201I which will secure an additional 200 jobs in NI. At present our security professionals provide managed security solutions in a number of sectors including; Government, Corporate, Retail, Healthcare, Financial Services, Telecommunications, Education, Transport and Sports & Leisure
Regularly I sit down with the Managing Director, Brendan Flynn, to give him an update on my work. I don't really have set lunch and generally eat on the move.
Throughout the day I am in touch with existing clients, working on tenders and following up new leads for potential clients. We already boast a large selection of clients in Northern Ireland and it is a very exciting time for us. Each of our clients has a dedicated Key Account Manager who takes the time to get to know their business, ensuring the best-fit solution is always achieved, guaranteeing value for money.
As we invest heavily in the recruitment, training, development and performance management of our staff, this guarantees only the highest standards of service for our clients.
Currently I am involved in getting staff trained up and working on marketing ideas to encourage people to join the business. It is our mission to continue to strengthen our position as leader of the outsourced security services market on the island of Ireland so excellent marketing skills on my part are needed. I really enjoy working on campaigns so clients know that through our guiding principles of integrity, reliability and delivering value for money, we design and implement best-fit security solutions to suit their needs, both now and in the future.
I love working in the security industry. It is a very exciting time for the business and I am delighted to be part of the expansion and development, which will hopefully lead to new jobs, in turn helping the local economy.
Ulster Star
05/03/2010