Nikki Press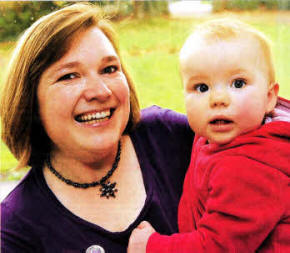 Nikki Press, 36, from Crumlin recently started a new business Precious Kidz (NI) teaching parents how to massage their babies. She has attained full certification from the International Association of Infant Massage. Massage enables babies to strengthen their bond and enhance communication, as well as promote relaxation and deeper sleep. It can also help to aid baby's digestion, relieve wind and colic, and develop baby's muscle tone and co-ordination. At present she is trying to spread the word about these benefits and re-introduce a skill that many families have lost.
Nikki is married to Jim and they have three children aged 7,3 and one. She studied Physics with Astrophysics at Queen's and worked in the pharmaceutical industry for seven years but once she had started her family she realised that she wanted to spend more time at home and so decided on a career change and childmind at home. She completed an Early years care and education NVQ and became a registered child minder. Then once she had her third baby she developed an interest in baby massage after a health visitor told her about it. After she attained the infant massage qualification she decided to extend her childminding business to include the baby massage.
I have cut back my childminding hours to allow the baby massage part of my business to expand. I primarily teach the class during the mornings, a couple of days a week and I'm based in the 'Crumlin Together' hall.
I never have a dull day. Once I get my eldest child to school and sort out care for my two youngest children I then usually head to the venue to take the classes. At the moment I am based at Crumlin Hall but I am gong to be starting classes in Lisburn and surrounding areas in the new year.
I set the room up and await the arrival of the adults with the babies. I encourage the adults to bring their own blankets so the babies are familiar with their smell. I play relaxing background music and get the group to sit down as promptly as possible as the babies don't often settle for long. We will do gentle stretches and chat about the massaging and how it is an excellent way to communicate with the baby. Eye contact is very important. Babies do understand the signals. If they really don't want to be massaged they are quick at letting you know. In this case I encourage the adult to pick up the baby and nurse it until it is relaxed again. The classes last an hour and each adult is given a massage booklet so they can practice at home. Once we have finished the babies are dressed andf then we have an informal chat over coffee and tea. The oil used in the massages is organic cold press sunflower oil. This is the purest oil so it won't cause allergies and can be used on problem skin.
The course runs for five weeks at a time and each week I concentrate on a different area of the babies' body. I normally start on their feet and legs as these are less sensitive and gets the baby into a nice state without being overly stimulated. By the fifth week we put all the different massages together. I have also now set up a 'movers and shakers' group for older babies. Massage can be trickier on this age group so I use sensory play and music rhymes and textures and this follows on from the first class.
Once I have finished the classes I go home and collect the children I mind after school. I will help them with their school work before their parents come to collect them. Then I spend time with my own family. In the evening when my children are sleeping I study for my diploma in child psychology.
Ulster Star
10/12/2010