Jenny Monroe talks to Peter Hunt of Be Safe Driving Academy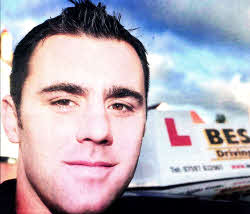 PETER Hunt, 26, from Lisburn, runs the Be Safe Driving Academy. He has three years experience as a driving instructor and worked with two of Northern Ireland's biggest driving schools before opening his own school earlier this year.
I get up each morning and get ready for the day ahead. I'll check my diary and see what lessons I have on. I usually spend Sundays booking people in. People who work shifts will text or call me to let me know when they are free and then I'll organise a slot for them. I tend to keep lessons in one place like Belfast on a particular day and this means I am not travelling a big distance between lessons ensuring I am on time. Lisburn and Belfast would be my two main areas.
I'll set off for the first lesson and pick the student up from their chosen place. It could be their house, place of work or college. The first lesson will generally consist of the cockpit and safety drills, familiarisation of hand and foot controls, use of mirrors, and time permitting - moving off and stopping procedures. Previous experience will obviously dictate.
At the start of the lesson I will give a brief of what we are going to do. It really depends what stage the student is at. If they have had previous lessons I'll go over what they learnt the time before to refresh their minds and to pull everything together. I have mapped out areas where I teach certain manoeuvres. In general we will pull up in one of these areas and I'll outline what we're doing. I explain in depth and I try to link it back to the previous lesson.
I offer them a demonstration but if they decline then the student begins the manoeuvre with my guidance. I talk them through the procedure and then gradually ease off and start asking them questions about what is going on so at the end they can carry it out on their own.
I will then ask the student to drive around test areas before we head back to the drop off point and have a quick run over what we've covered that day and what we will be doing the next time.
Most students know their timetables so they can make another appointment. I'll book in the lessons and fill in their record sheets and tick off what was covered.
When I have spare time I will do the fuel accounts and make a note of when pupils have tests so I can keep the diary free. On the day of a test I will collect the student driver and let them practice an hour before the test. We head to the test centre and the learner can ask for me to sit in on the test if they wish.
Otherwise I just wait at the centre until they get back. Again the learner can ask me to listen to the examiner talking about their performance after the test. If the learner has been successful I will congratulate them before dropping them home. I will offer them a complimentary motorway lesson too. I also give advice about driving on their own for the first time. If the learner has failed I'll discuss the examiners comments.
I am hoping to expand the business and I have a few ideas. I feel I need to diversify given the current economic climate. I always ask the pupils to pass on my details to fellow learners as I find word of mouth is what keeps my business going.
I really enjoy my job and when a pupil passes and appreciates the lessons I am delighted. I am also apprehensive at the same time as I hope they will be safe, careful drivers and not have any accidents.
Ulster Star
01/01/2010