Sara-Jane Kelly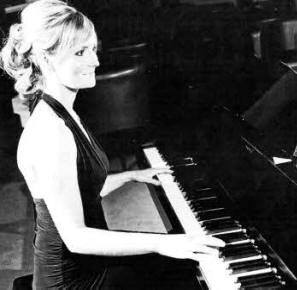 Sara-Jane Kelly, 28, is regarded as one of Northern Ireland's finest wedding and function pianists, offering a refined and distinguished live piano music service throughout Northern Ireland and beyond. Being a classically trained pianist she also offers one to one piano and theory lessons and has taught in various schools and privately for many years with a long record of success in the Associated Board exams.
The former Wallace High School pupil, lives in Maghaberry with her husband Neil. She is a Law graduate but during the recession she was made redundant and decided to set up her own business doing something which she has always loved doing - playing the piano and teaching others how to play.
My days consist of me teaching in schools or taking private lessons at my home as well as playing at functions around the province. I am so happy to now be my own boss and I really do not miss the hustle and bustle of commuting to Belfast every morning.
I teach children generally from 6 years upwards and adults of any age. Whether my students are complete beginners, have previous experience, would like to take exams or would just like to learn for personal satisfaction, I am delighted to teach them. I really enjoy my work teaching music in the schools. It's lovely working with children and helping them develop their musical skills. I love preparing for my classes and trying to come up with different ways to grab the children's attention. I use tin whistles, recorders, simple percussion instruments and singing as a group to help me do this with the younger children so that they find it varied and most importantly, fun! As well as teaching in schools I teach from home. I provide tuition which includes piano lessons, exam preparation, public performance, aural/ear training, music theory and music composition. I make notes in the student's note book and keep a record of their progress. Before students begin their piano lessons I like to have a consultation with parents of children or with individual students to find out informally what it is they would like to achieve.. The lessons last half an hour and they are all very different with each lesson tailored to individual abilities and interests. Playing at weddings has also become a big part of my job. I have many years experience of working together with couples to provide them with piano music for their special day. Before the big day I will have a consultation with the couple to select music and decide timings. There is also a demand for me as a cocktail pianist and I provide a distinctive musical backdrop to events, parties and celebrations, both corporate and private Although I am classically trained, I have always considered the music that I play by ear to be my real enthusiasm and area of expertise, and the majority of my repertoire is recalled from memory.
I have a great passion for what I do and it is a lovely feeling being able to share with others something that means so much to me. The business really has taken off very quickly and I am delighted with how it has turned out. Here's hoping it continues to go from strength to strength.
Photo supplied by Red Sky Photography.
Ulster Star
26/11/2010