Andrew Dougan of the Yellow Door Deli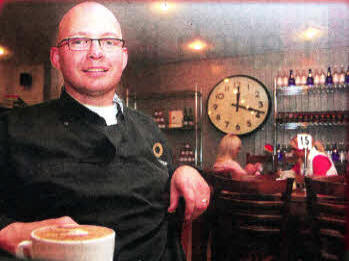 Andrew Dougan owns the Yellow Door deli in Lisburn which opened last year. He lives near Armagh with his wife and three young kids. After completing a business degree in London he took up a sales job but in the mean time his cousin Simon Dougan had set up the Yellow door deli in Portadown which also encompasses a highly successful corporate and wedding outside catering business. The opportunity soon presented itself for Andrew to open a deli in Belfast and he jumped at it as from a young age he wanted to run his own business. Last year Simon and Andrew set up
in Lisburn and business has been thriving considering the economic climate. Yellow Door deli's have upped the ante for similar establishments by offering a wide array of superbly cooked savoury dishes, wonderful specialty breads, pastries and ice creams, all created in-house and using high quality locally sourced produce.
At 7am I leave my house and go and collect fresh bread from our headquarters in Portadown to take to the store in Lisburn. On my way I will also deliver bread to a shop in Moira. We supply a lot of shops, hotels and high end restaurants with our fresh bread - it's very popular.
The day is generally varied and I divide my time between working in the kitchen and out on the deli floor as well as working in the Belfast branch too. First thing in the morning I will discuss the menu with the kitchen staff and plan for the day ahead. All the preparation takes place at this time.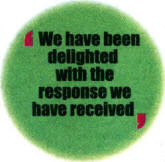 As the shop starts to fill up the busier we all are. Lunch times are particularly crazy which is great. There's a fantastic atmosphere and it's lovely to get good feedback from the customers who enjoy our foods. Customers can also avail from our take-away counter so there is a constant flow of people coming in and out of the shop.
As well as the deli I am often involved with outside catering jobs. This is a big part of our business and something I enjoy doing. We have an outstanding reputation for this service we offer. All the logistics are carefully planned and it really is like a running a military operation to ensure a successful event. We try to be organised and will have planned everything well in advance. We do try to over deliver in everything we do and we don't take chances. We offer exclusive menus to every client who work alongside us very closely in planning their menu so they get exactly what they want. I get a real buzz out of this type of work.
I come from a farming background and we try and use a lot of our own vegetables and herbs including many traditional varieties so this gives the food we make a special local touch. We also use some of our own beef. I believe good food in a restaurant is all about good ingredients, Northern Irish food is coming along in leaps and bounds. It's so refreshing to see contemporary dishes taken from old style ingredients and improved and modernised.
The shop closes at 5pm and I head home to see my family. We have been delighted by the response we have received. - it was a risk opening in this climate and we did deliberate a lot on whether to locate in the area but we certainly made the right choice and have been warmly welcomed. One of the nicest comments I hear from customers is that they think the business is just what Lisburn needed.
Ulster Star
14/10/2011