Anton Campbell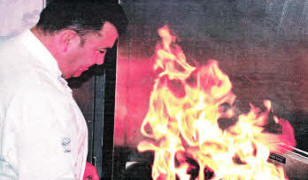 ANTON Campbell, 41, is the proprietor and Head Chef of Lisburn Steakhouse & Urban Grill restaurant, Del Toro situated on Antrim Street. He is married to Bronagh, who runs the restaurant alongside him. The restaurant opened in October 2009 and is already receiving recognition from the industry in the form of a Georgina Campbell award and more recently being shortlisted as one of the "Taste of Ulster" first 20 choices.
Anton says his passion for cooking stems back to his childhood when he was intrigued by what his mother was cooking, so at an open day at his local college he decided to pursue a career in catering. Although his peers tried to advise him that this was a challenging choice because it was a predominantly female based industry he stuck to his guns even though he was the only boy in his class.
As a novice 16-year-old, while he was commencing his apprenticeship, he took up a job in the Grange Restaurant in Waringstown. He says he will always remember his time there fondly and it forged in him core standards of high quality and consistency in the food service trade.
His inquisitive nature and ability to learn saw him quickly moving up the catering career ladder and into a position as Executive Head Chef in the Plough Restaurant in Hillsborough where he worked for 13 years before deciding to take the plunge and open his own business.
Every morning I leave home shortly after 8am and enjoy the journey into work as it gives me time collect my thoughts and plan for the day ahead. I consider my kitchen ordering requirements and contact suppliers, especially those that supply fresh produce like fish, seafood, fruit and vegetables. I'll see what's available, check my prices and place an order accordingly.
When I arrive at the restaurant I check the post, any messages and then head straight to the kitchen and fire everything up. By this point I will have drawn up a prep sheet so everyone knows what is happening during the day. I liaise closely with senior chefs Nicky Reid and Lee Mullan to plan and organise the menus for the day.
The front-of-house Del Toro team, which is managed by Lyndsey Rooney, will be starting to arrive by this stage and we ensure that the restaurant is clean and tidy and that service staff are informed of the daily specials. In the kitchen the team will start to make the daily culinary preparations. We have set ourselves high standards so this is a diligent skilled process that demands attention to detail. We strive to focus on seasonal, local, sustainable produce so hopefully each dish comes at its freshest and most flavourful. I insist that the meat is aged for 28 days and only use the finest ingredients to ensure the food is of the finest standard.
Lunch is busiest from 12-3pm, however the restaurant stays open throughout the day and this is proving to be a huge success with those who don't conform to the norm. Once lunch is over we start to prepare for the evening service.
I love the adrenaline of a busy service - this is what keeps me and the team on our toes. We look on it as "Lights Camera, Action" and we want to get all three right on the night. Last orders are at 9.30pm and it's only when the last meal has been sent out that I start to wind down. My job then is to make sure that the kitchen is left impeccable for the following day and I know what ordering needs to be done for the next day.
We have been fortunate enough to develop a regular client base and word seems to be spreading. Our main aim is that customers enjoy the food and our hospitality.
Once the last customer leaves the restaurant we consider our work done for that day. Bronagh and I are really delighted the way things have worked out - I am so proud of the restaurant and the team.
Ulster Star
04/03/2011