Aoibheann Fearon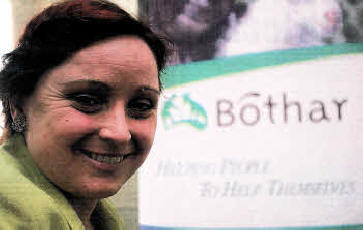 Aoibheann Fearon, 29, is the Northern Ireland representative for Bóthar, an all-island charity which sends local livestock to developing countries to help poverty-stricken families become self-sufficient. With an office in Dunmurry, Bóthar NI educates local schools, businesses and individuals about global poverty and how giving the gift of an animal can drastically change the lives of people in the developing world.
Aoibheann, who is originally from Newry but now lives in Belfast, has worked with Bóthar NI for three years. She always knew she wanted to do a job where she was helping people and says she gets a lot of satisfaction from her work.
I arrive at work around 8.30am and begin to make a to-do list for the day ahead. The list gets longer every day but catching up on emails and phone calls ensures that I know what the week has in store. Some days I am in the office planning campaigns and gathering ideas for fundraising opportunities and other times I am out promoting the charity. I could be at a local school, business or community group telling them about the great work we do or up at Belfast International Airport co-ordinating the delivery of goats to Uganda.
Bóthar's headquarters is based in Limerick with regional offices in Dublin, Cork, Sligo and Belfast. Our team in Northern Ireland is small but we aim to make a big difference. Since opening the Dunmurry office we have been able to send 380 goats to Uganda and another airlift of 300 young kid-goats is planned for September of this year. I often get asked why we send local livestock to developing countries and it is because the milk yields from them are so much higher than those from indigenous animals. This milk can be used by families to create dairy produce so that they can support themselves.
All Bóthar projects also practice a 'pass-it-on' system whereby families give their animal's first-born female offspring to a neighbouring family - so it really is the gift that keeps on giving. Through our training, support and breeding programme these animals can eventually support an entire community.
Bóthar ensures that all families are equipped with the knowledge and skills to look after the animals they receive, with training on how to build animal shelters, grow fodder and understand animal health and welfare issues. Learning about environmental practices, record-keeping and how to market their produce is also included in the training.
The majority of farmers that receive animals are illiterate and unfamiliar with a classroom situation, so training is done in groups, using picture cards, demonstrations and stories to aid in explanation.
In a nutshell, it is my responsibility to educate people in Northern Ireland about the work of Bóthar NI and encourage them to fundraise for such a great cause. One project that I am currently working on is our Mournes Challenge Trek, which is set to take place this summer from 14th - 16th August. This year, funds raised from the challenge will support Bdthar's project in Southern Honduras - a country devastated by Hurricane Mitch in 1998. As well as this, I am training to climb Kilimanjaro in September in order to raise more funds for the charity. This is a once-in-a-life-time experience and one that I am really looking forward to. For further information about Bdthar NI and how you can become involved with the charity, visit www.bothar.co.uk or telephone 02890627308.
Ulster Star
22/07/2011