Jenny Monroe talks to Carrie Neely, art consultant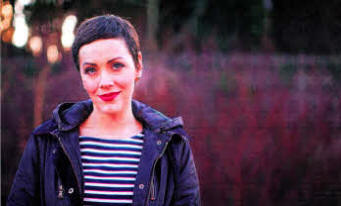 CARRIE NEELY is an art consultant. She has lots of experience in the art world having delivered art consultancy over the last 14 years in Belfast, London and New York. Born in Belfast, Carrie Neely moved to London in 1997 after finishing her degree in Visual Communications at the University of Ulster to start her art consulting career. During her 10 years in the London and New York art world, Carrie worked with some of the worlds' top named artists, dealers and galleries including Damien Hirst, Jeff Koons, Charles Saatchi, Eyestorm, Magnum Photography, Rankin and David Bailey- She also ran her own art consultancy and gallery in Bloomsbury, next to the British Museum.
Her client list is extensive and as well as many high profile individuals and celebrities she works for local individuals and firms and helps promote the work of several Lisburn artists.
Carrie is married to Rob and they are expecting a baby this summer, she also has two children aged three and two from a previous relationship.
I work full time from an office at home and this suits me well as I am a busy mum of two children with another one on the way. Saying that, I am often out and about meeting artists, clients and managing exhibitions.
I started my business in Belfast with the aim of helping emerging local artists make a name for themselves as well as selling works by the more established artists, giving clients the choice of local, as well as internationally renowned, artists. I wanted to create an offering that was different for Northern Ireland: identifying exactly what clients needed.
I buy and commission art independently from artists, galleries and dealers locally, and as I have no stock to sell, can offer clients a wider choice and at the best prices. This all means I must have my finger on the pulse, knowing what pieces are great investment pieces and which artists to watch.
I cater for a wide range of clients no matter how big or small the budget, no matter how weird or wonderful the brief. I use my house as a gallery so potential clients will tell me what art work they are interested during a consultation and then I will source or commission their perfect work of art, which can be by any artist, of any genre and from any gallery in the world. I will look around galleries and put out ads for certain pieces of work if I am facing a difficult challenge. I don't have a gallery space but I do sell work off my walls at home, and I also do exhibitions. I also do one-off exhibitions for events such as Fashion Week and often team up with Stranmillis Gallery Canvas for exhibitions. This is a great way for artists to exhibit their work. My work also involves a lot of networking and establishing contacts all across the country. It can be very difficult for artists to make a living so it is up to me to try and find the clients for their work.
I have a portfolio of over 300 Irish and International artists that can paint, draw, print, photograph, sculpt, design, install, illustrate and generally make things out of wood, glass, mosaic, furniture, fiberglass, perspex, sticky backed plastic and toilet rolls.
I love my job, it really is a pleasure. There are no set hours; I could be working evenings and at the weekend, but the flexibility to work around my family life is brilliant. I love nothing more than watching an artist's career blossom and hope I can help a little bit along the way.
The best bit about my job is making that phone call to an artist to tell them their work has sold.
Ulster Star
28/01/2011