Claire McAlister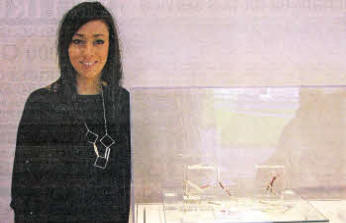 Claire McAlister is a jewellery designer from Glenavy who was recently nominated for Jewellery Designer of the Year 2011 in the Fashion Innovation Awards. Claire creates distinctive jewellery using a unique combination of silver and dramatically coloured wood veneers. Graduating from the National College of Art and Design in 2008, Claire's work has already received much acclaim designing for shows across the world- Last year she featured in Origin, the London Craft Fair and in Eunique in Germany. With an American agent and a touring show opening in Australia this summer it's getting hard to keep up with this energetic and determined young designer. Claire spends a lot of her time in Waterford where she works at Workhouse Studios which was set up in 2008 by Claire and other designers who each play an active role in revolutionising Irish design.
I divide my time between my studio in the garage at home in Glenavy and at the studio in Waterford. I do like to be at my computer for 8am and go through emails, checking forums so I kept up-to-date with the industry as well as updating my website and social network sites. I try to keep to a timetable each day allocating time to focus on different areas of my business. So I could be working on strategic planning and marketing in the morning and then by lunchtime I try to start designing and creating the jewellery. There's a lot of paperwork and administration work to be done as well and I am also involved in designing a business course in conjunction with the studio. This is to give other designers ideas about running a business and something which a lot of them will benefit from.
I do make a lot of pieces to order. I make 3d models from card and paper to get an idea of what the design will be like in real life. I use wood veneer which turns into inspiring and dynamic forms when manipulated from their flat state. These forms are reinforced with silver. In this way I can achieve a balance between what one material brings to the design and what I instruct the other material to do. Working with the shapes that the veneers inform, the jewellery is assembled from individual rectangular units into complex structures of intricate geometry. Truly inspired by material itself, I see the potential in this unique combination. This marriage of silver and wood veneer results in work of physical beauty and mathematically organised form. The pieces, although bold and complex, are light weight and easy to wear. It is very important to me that my pieces are easily identified as one of my creations. Each piece is informed by the previous one.
I could be making a necklace which could take two weeks or making four pairs of earrings in an hour. It really is different every day.
People like to see my work and will book appointments to come along to the studio. Going to exhibition is a great way for me to showcase my designs too. I have had several magazines contact me to do features on my work which is great and the publicity is doing my business wonders. I love showing my collections off and getting feedback. It really is all go at the moment especially since I am organising an exhibition for Irish designers in Australia. I really can't wait for this in the summer.
I have a lot of work on at the moment which is just brilliant. It means I could be working late in the evenings but I don't mind as I really enjoy my work. I'm very passionate about it and I hope people are inspired by it.
Claire's inspiring collection can be seen online at www.clairemcalister.ie
Ulster Star
22/04/2011