Colin Woodward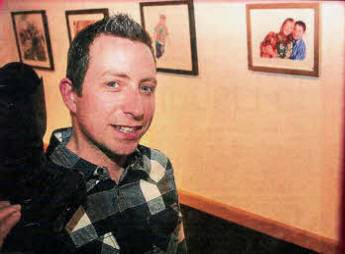 COLIN Woodward is a photographer and manages Zebra Photographic based at The House of Vic-Ryn on the Moira Road.
The Ballynahinch man has a degree in fine art photography and has been working as a professional photographer since 2004. He has been in the portrait industry for the past six years and previous to that he had spent some months photographing in West Africa for Wycliffe Bible translators where he documented their projects with photographs that were then used in their publications. He also provided the photographs for a devotional book and other Christian literature whilst also selling his work privately. Colin is married to Clare and they have a daughter called Anna aged two and are expecting their second child in February. CoIin enjoys working at the studio because all profits go to charity which is something that fills him with a sense of joy.
My day really varies and there is always plenty to do as I am based in the studio by myself and business has really taken off which is great considering the state of the economy. I think this may have something to do with the fact that the business is owned by a Charitable Trust and run by a
Board of Trustees and the aim is to generate funds and thereby give 100% of profits to charitable organisations. The money is divided between Fields of Life, TinyLife, Friends of the Cancer Centre and Child Evangelism Fellowship. This concept was born from a desire of a few individuals involved in commerce to give something back into worthwhile causes. The House of Vic-Ryr really has adopted a unique business approach and it does work.
As well as the general running of the business I also do the photography side of things too. We offer contemporary, innovative and stylish family portraiture as well as commercial photography. I have sourced excellent suppliers from the local area who are also committed to produce excellent work and I am grateful for that.
Generally I look at my diary first thing to see what has been booked in and then I will work around the studio sessions. If I'm not shooting a photograph I'll be taking bookings, letting people see the photos I've taken for them so they can select the ones they want or I'll be spending time working digitally on clients' orders and then taking them to our suppliers for production. There's always something to do and it's great to be so busy.
If I have a spare 20 minutes I'll sneak down and have a fry in Cafe Vic-Ryn - another bonus to working here.
In this line of work you have to be flexible and be able to work around the client's so I work every Saturday and some evenings. I really enjoy the getting the images ready for the clients once they have been taken.
I do mostly in house work but I could be out at weddings too. As the business expands this is one area that we hope to develop.
I enjoy chatting to people which is handy in this job as it is important that the people getting their photographs taken feel relaxed and comfortable.
There's a lovely atmosphere in the House of Vic Ryn. There's so much going on and still a lot of people don't know much about it and are surprised when I tell them about the charity.
I am so fortunate to be able to embrace my love of photography with my faith. It's very refreshing and I am happy to be in such a position.
Ulster Star
23/09/2011