Ellen Hillen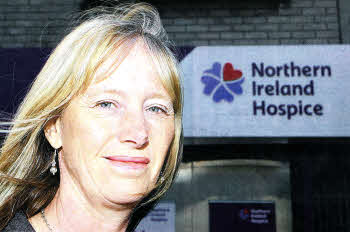 ELLEN Hillen is Corporate and Trust Fundraiser with, Northern Ireland Hospice. She is part of the fundraising team who have to raise over £5 million each year to ensure the Hospice services can provide much needed to support families in NI.
Ellen, who lives in Lisburn, previously worked as Manager of Lisburn Square before being made redundant. This presented an opportunity of a change in career which led to a year's temporary contract with The NSPCC before becoming a permanent member of staff with NI Hospice in March. She is married to Reggie and they have a son Matthew who recently qualified as a doctor.
My office is based in Horizon House in Newtownabbey so I need to leave my house before 8am to arrive for around 9am. Firstly I will draw up a plan for the day. I am responsible for securing income from the Corporate sector and securing funding from Trusts and Foundations. Northern Ireland Hospice is a local charity caring for over 3250 children, young people and adults each year. Care is provided in the adult and children's Hospices and in the persons own home.
A normal day in the office entails: checking emails and messages from supporters and making a plan for the day's activity, preparing and delivering presentations to businesses. preparing fundraising plans for businesses to deliver their corporate social responsibility strategy, preparing funding applications, attending internal planning meetings and cheque presentations and arranging publicity.
I normally work 9am - 5pm which gives me a better work life balance but I do need to be flexible to attend functions and fundraising events in the evening and at week-ends.
As I am relatively new to he position I am trying to develop the corporate side of things. This means a lot of presentations with businesses and trying to establish links with new companies throughout the province. It is great to meet staff and supporters who raise the money and hear their personal stories of family and friends who have used the Hospice and what inspired them to support us.
We are the only Children's Hospice in Northern Ireland. The children and young people we care for are life-limited meaning that they are unlikely to live until adulthood. We provide respite and end of life care in the children's hospice and at home, day care, support for families and carers, bereavement care, complementary and creative therapy. The Adult Hospice provides in-patient care, care in the community, day hospice, support for families and carers, bereavement care, complimentary and creative therapy. Our services are free to families. It costs approx. £8 million to maintain current NI Hospice services.
We receive approximately £3m in government funding so we need to raise £5 million each year and we depend on the general public to do this.
There are around 600 children and young people in the Province with life-limiting illnesses - at present we help 250 of those families and we would like to help more.
I've been busy with the recent Cash for Kids event run by Cool FM and Downtown Radio. The hospice was the beneficiary of it this year and has meant me going round with the radio presenters meeting people who know only too well the service that the hospice provides. It has been a bit of an emotional rollercoaster hearing some of their stories but it has also been great finding out just how the hospice has made a difference. That's the best thing about this job, no matter how stressful it can be sometimes, you always know that you are helping to make a difference and that means a lot to me.
I am really glad that my career did change paths - I have more family time and the type of work is very rewarding. There is definitely something to be said about job satisfaction.
Ulster Star
17/06/2011