Gillian McGarry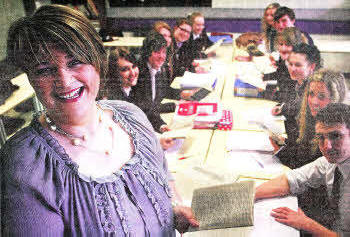 GILLIAN McGarry from Hillsborough is an active fundraiser for the NSPCC as well as being Head of English in The Wallace high School.
The 38 year old enjoys helping to raise money for the charity and encouraging others to become volunteers. The NSPCC is inspired by a belief that it can make a difference for all children. It aims to end cruelty to children across the UK by fighting for their rights, listening to them, helping them when they need help and making them safe.
I'm at my desk from just before 8am. It's good to get a sense of focus for the day ahead and it gives me the opportunity to chat to members of my department. I've been Head of English for almost two years - I've been teaching in Wallace for almost seventeen years. I won the Northern Ireland Teaching Award for Enterprise which recognised my ability to motivate others and think of others and I guess this is reflected in my charity work as well. A cup of coffee and a chat with colleagues in the staffroom gets us all ready for the busy day ahead. I teach mainly senior classes and thoroughly enjoy analysing Literature with my students. I recently completed a Masters in Educational Management and I'm toying with the idea of further study - I love learning. I'm always developing new skills. All teachers in Wallace are being trained in using an ipad2 at the moment and I'm looking forward to seeing how this new technology will enhance the learning environment.
I also teach GCSE Journalism and former pupils who now work in PR, Marketing, and the media give of their time to come in and mentor our current students - there is a very clear sense of community in Wallace. That's apparent from our thriving and Old Girls' and Parent Teacher Association - I've been involved with the PTA for several years and love helping to organise events for the school community. The school day certainly doesn't end at 3.25pm when the final bell rings. Between meetings and extra curricular activities and, at this time of year, extra study groups for exam classes, I'm usually in school til around 5pm.
A good walk around Hillsborough Forest Park or catching up with friends is the perfect way to relax at the end of a busy school day. I also spend quite a bit of my free time volunteering for the NSPCC. Over the past few years my family and I have raised almost £20,000 for the charity. I get a great sense of achievement when we come up with ideas which help raise money for this important charity. It's a great buzz and the team spirit never fails to amaze me. The work done by the NSPCC here in NI is outstanding - from ChildLine and the NSPCC Helpline for adults concerned about a child to services focusing on children affected by sexual abuse and domestic violence, every penny raised is used wisely. Here in Wallace many of our Sixth Years were trained by the ChildLine peer mentor programme to assist with their work as student mentors. In turn, Wallace has raised thousands of pounds for the charity over the past few years, through events such as sixth form concerts to a PTA ball.
My next NSPCC project is a carwash, which would be impossible to organise without the help of the NI Fire and Rescue Service in Crumlin. I'd love to see a fundraising committee being set up locally-the Lisburn community is incredibly generous and supportive of the NSPCC and I'm sure there are lots of people with amazing fundraising ideas. Wallace has an amazing fundraising record - last year alone we raised over £18000 for a range of charities. Our charity coordinator Grace Bill and her sixth form based charity committee do an amazing job motivating people and 1 have learnt a lot from them. It's an absolute privilege to be a teacher. I can think of no better job than working with young people every day - their energy is amazing and I can honestly say I look forward to work each day. My work with the NSPCC is something I am also very passionate about and I would encourage people to get involved and help out even if it is only in some small way - everything helps.
Ulster Star
15/04/2011