Gregory Woulahan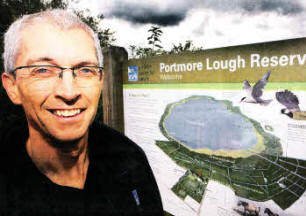 Gregory Wouhahan, 43, is the Reserves Manager for the wildlife conservation organisation RSPB, in Northern Ireland and has overall responsibility for the newly re-opened Portmore Lough near Aghalee.
He originally studied a degree in computer statistics and operational research before completing a teaching certificate and a Post Graduate degree in ecological monitoring before joining the RSPB 8 years ago. Gregory says he always had an interest in nature and knew his heart lay with protecting the natural world. Gregory is married to Anne-Marie and they have a young daughter called Rosie.
I am based at the charity's headquarters in Belvoir Park and I usually cycle to work each day along the Lagan towpath after leaving my daughter off at nursery. I am responsible for the 10 RSPB reserves in Northern Ireland and every day varies. Primarily I am desk based but I do try to get out on site as often as I can but it just wouldn't be as often as I would like.
While conservation is the main focus we do our best to bring visitors closer to nature making sure they have a great experience without causing a negative impact on the wildlife.
I am responsible for budgets, acquiring land, making sure the sites are managed appropriately for people and wildlife, management planning, managing a team of 13 and I help our fund raising team obtain funds for the reserves. I am always thinking about the future and how best to spend our resources. It is essential to think about the best ways to maintain sites and get value for money while doing it. Sites must be kept in the best condition possible for wildlife and for our visitors to ensure they have a great experience. Portmore Lough has been slowly brought back to life to the peak of health again. It has taken 20 years of endless hard work by Portmore Lough staff and volunteers to get to this point. And now everyone can enjoy this piece of countryside paradise in comfort, as recently unveiled, a new community room, all weather board walk and vastly improved facilities. The project was sponsored by the Northern Ireland Tourist Board (NITB), Ulster Garden Villages, Southern Organisation for Action in Rural areas (SOAR), the European Agricultural Fund for Rural Development (EAFRD), the Department of Agriculture and Rural Development (DARD), Leader, and the Rural Development Programme (RDP). With thanks to the 'Bringing People Closer to Nature' project, Portmore Lough Reserve now boasts a new pier-like viewing platform, a new building with a Community Room and a new boardwalk to the Lough side hide. The viewing platform is a steel and wood structure which sits almost 14 ft above the meadows and gives panoramic views of the reserve from the Information Shelter. The Community Room features all of the equipment and necessities needed for group meetings and presentations.
Amble down through the trees and onto the meadows, from where it is only a short distance to the wildlife viewing hide, which has also had a facelift. Inside, the windows have been lowered so that our very young wildlife watchers can easily enjoy the wildlife spectacle on the Lough. The site is also now fully accessible, with accesses adapted for wheelchair users. The site is now one of the top three in Northern Ireland for breeding lapwings and this is an exceptional achievement as the birds have been continually declining in the wider countryside
since the late eighties primarily due to farming intensification. As well as increasing the lapwing population, we have a thriving Irish hare population and we are trying to encourage the extremely rare Irish Damselfly to colonise from Montiagh's National Nature Reserve. It is so rewarding when you see species thrive and it makes all the hard work worth it.
I am very proud of what the RSPB has achieved and I really hope visitors will enjoy their experience. Our vision for the site is that it will be an exemplar wetland cherished by the local community. The new facilities will help us achieve part of this vision but only if people visit. It is truly a hidden gem and it would be lovely if more people come along to see what is on their own doorstop.
Ulster Star
08/07/2011