Hayden Davis of Next Level Sports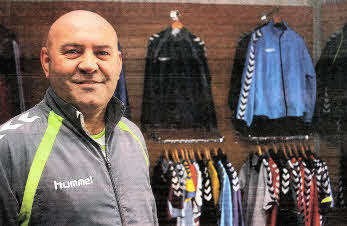 HAYDEN Davis, 44, owns Next Level Sports, a Teamwear specialist business that supplies matchday and training clothing apparel, training equipment and accessories across all sports. The business currently supplies a wide range of clubs from his showroom in Castle street Lisburn. Hayden's background is in sales and marketing having spent over 20 years working for three major blue chip companies, but he also has a great passion for sport especially football and has been a member of Dunmurry Rec Football Club for 11 years where he played and coached. It was two years ago while taking his IFA/UFEA Coaching badges he saw a niche in the local market to supply Lisburn based football and sports clubs with their teamwear and equipment and in May 2010 opened up his new showroom and offices.
I live in the city centre so am very close to the office and showroom, it only takes me a couple of minutes walk in the morning to get in. The day begins with checking emails and post and going through any updates from the numerous sports brands I deal with regarding orders, stock holdings, new ranges and any special offers that they have coming up. Once the morning administration duties are completed I'll then go into the showroom and get brand samples ready for any clubs that I have coming in that day. I then sit down grab a coffee and start to plan ahead with my diary, I try to run about two weeks in advance with booking up meetings and coaching sessions with the clubs, organisations and businesses but also realise I have to remain flexible as I've learnt in this line of work some clubs want to see you at very short notice. Most of my office time is spent working on business quotes and orders, each club or business has their own needs and this makes the processes vary quite a bit, dealing with Council Leisure Services, SERC college sports departments and local businesses is totally different than how I would process orders or quotes for say an amateur football club. I am now supplying teamwear and equipment to nearly 100 different sports clubs, organisations and businesses.
Confirming and processing orders is the key part of my day duties. My timelines are to have clubs orders completed within three weeks - this is a quick turn around for any sports club not just football and means me keeping on top of every order from when it's placed with the Brand to it being delivered to the club. Delivery to me is normally two weeks. During this time I've arranged with my local embroidery company the set up of club badges, sponsorship logos and numbers. This part of the process requires the most attention as clubs and sponsors want everything to look prefect. With new clubs I arrange for the embroidery company to do a stitch out sample of the club's badge/crest which, I then take it to get signed off by their committee - this is the same process with any sponsors logos as most companies will have their logo trademarked. My evening work is split between meetings with club committees or being out on the pitch coaching. I understand not every club can get into the showroom so I arrange to bring samples to them. I'll have already spoken with clubs decision makers before hand to find out what they are looking for, this gives me a better idea to what brand, range, price point of teamwear samples or equipment to bring along and present to them. The coaching side of the business is what gives me the biggest buzz, it's where I came from and how Next Level Sports started off. This season I ran an offer on Precision training equipment so if clubs bought a certain value of equipment I would go to their club and coach a few sessions showing them the different drills that the equipment could be used for.
A friendly, strong working relationship providing an excellent service is how I see my business and I believe this is why it's going from strength to strength in its first year.
Ulster Star
08/04/2011