Irenee Orr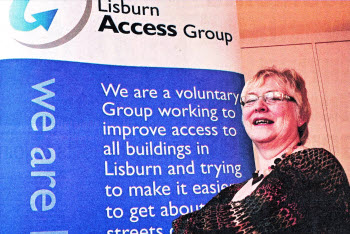 IRENEE Orr is Chairperson of the Lisburn Access Group - a voluntary organisation working to improve access to all buildings in Lisburn and trying to make it easier to get about the streets of the city and villages as well as improving access to services and attitudes.
Members include representatives from the public, private, voluntary and professional sectors. Some members have a disability themselves but the person we wish to attract as a member is someone who cares about equality for all Lisburn people and specifically in all aspects of access. Irenee is a member of Soroptimist International of Lisburn & District and it was through Soroptimist Yvonne Hinds, who started the Access Group, that Irenee was introduced to the group over ten years ago.
I do not have a typical day but most will involve me dealing with some aspect of Access Group work be it checking emails, writing letters and following them up, making telephone calls, attending meetings and addressing local access concerns. We are working to promote in general, and especially from service providers, a more positive attitude towards people with a disability with a view of achieving fair and equitable treatment. Access is not just about installing ramps and widening doorways for wheelchair users - it is about making services accessible for use by all people with a disability including those who have a visual or hearing impairment, a learning disability or indeed with a 'hidden disability (e.g. someone with serious asthma)
In my role as Chair I talk to the Council, the Roads Service, architects, business people and anyone else whose decisions have an impact on how easy, or difficult, it is to get about in Lisburn and its environs. A large part of our work is now carried out in partnerships with other organisations including Lisburn City Council, Lisburn City Management, Community Groups, Lisburn in Focus, local Education Board , local Health and Social Trust, Community of Interest, Building Control, Lisburn City Council and Roads Service.
With the increasing number of new houses being built in the Lisburn area, we would, working with the Roads Service, carefully scrutinize the development to check that the pavements access conform to the requirements of the law and where possible advocate the best practice levels.
The excellent working relationship with Roads Service is ongoing and long term as we recognise and understand the many restrictions placed on what they can achieve in any one financial year.
On behalf of the Access Group I regularly attend training events and seminars. The most recent was an audio representation training session provided by Lisburn in Focus. This gave greater awareness of what blind and partially sighted people are faced with on a day to day basis. My aim from all of these is not only for me to have greater awareness but as Chair, to share this with the other members of the Access Group.
I could be out at exhibitions promoting the group's work or getting feedback from members on how they are being received in their daily working lives by the public and those
with whom they are doing business.
I chair monthly meetings with the officers of Lisburn Access Group and members where we discuss any current issues which need to be addressed and what is being achieved. Our advice when taken has helped make access safer for everyone and this gives me a personal sense of achievement. I really enjoy being part of Lisburn Access group. My role as Chair gives me a welcome opportunity to serve my community and has widened my understanding of the many issues faced by those with a disability and how I can play a small part in addressing these.
I would encourage anyone interested in joining us to contact me on 07989752537 or email info@lisburnaccess.com for more details.
Ulster Star
25/02/2011