Jane Allen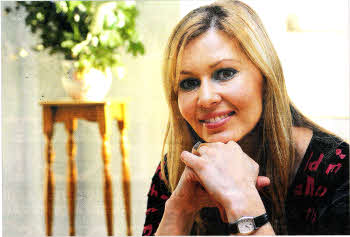 JANE Allen, 32, runs a beauty and make-up business from a purpose built studio in her Magheragall home.
The mother of two has reached the final of the third annual Oonagh Boman Make-up School of Excellence Awards which are the longest established and undoubtedly the most prestigious make-up awards in Northern Ireland. The final, which takes place on July 4, will be even more significant as celebrity make-up artist and founder of Senna Cosmetics Eugenia Weston will be flying in especially from Los Angelis, to present the coveted trophy. Jane is married to Richard and they have two young sons Tristan and Riley. Before starting her beauty and make-up business, Jane was a keen show jumper and worked with horses.
After working in Japan for six months she decided to set up her own beauty business and went on to attend the Oonagh Boman School of Make-up from where she graduated last year with a Diploma in Fashion and Photographic Make-up, allowing her to also work as a professional make-up artist.
No two days are the same. It all kicks off around 7am when I get the little ones ready for nursery. My day really depends on what jobs I have booked in and I will arrange day care for the children around my diary. I could have a client coming to the studio for a make-up trial, make over, or a beauty treatment or I could be out and about on an job. I do some freelance work for photo shoots and commercials and this is something I am hoping to do much more of.
I need to be flexible in this job as I do a lot of bridal makeup at the weekends and fashion shows in the evenings. I love bridal work as I always feel privileged to be part of a bride's special day. Knowing she is pleased with her make up and feels beautiful makes me happy too.
If I am working on a photo shoot or commercial I will have been given a brief and usually will have met with the client to find out what look they would like me to achieve. I will think of colours and styles that compliment the brief and then it is just a matter of arriving and getting to work with the models.
I occasionally assist Oonagh on jobs which is something I enjoy doing. Recently I helped out doing the make-up for celebrities attending the Fate awards and only last week I was assisting at a Make-up event at a local primary school. There is always something different going on and I love being part of it all.
It just feels great when I know the client is happy with the looks I achieve. Doing photo shoots and fashion shows allows me to bring out my creative flair and experiment with new looks.
It is very important to use the right tools for the job. I am often buying new brushes as each brush is used for a specific job and I always ensure my brushes are clean and my make-up kit is tidy before I start work.
Some brushes I buy from Oonagh and some from a wholesaler. I am a Stockist of Senna Cosmetics make-up range which is exclusive to make up artists and just beautiful. My clients can place orders with me and purchase products if they like the end result.
I can individually recommend products which suit the client best and I will tell them how to apply it properly and how to achieve certain looks.
I am very lucky that I can fit my business around my family life. I am very fortunate as I do have a great support network which makes things a lot easier for me.
I am delighted to be a finalist in the awards as I hope to make a name for myself with in the industry and this is the perfect way to do it.
I am very passionate about my work and I would like to be recognised as a professional make-up artist who produces high standards of work.
Ulster Star
01/07/2011