Jason Paul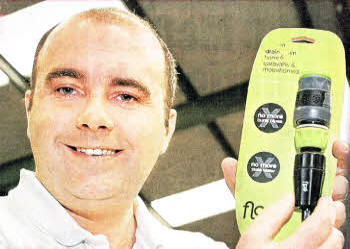 Jason Paul, of Apt Innovations
JASON Paul is the Director of local firm Apt Innovations who specialise in products for homes, holiday homes, motor homes and caravans. He is married to Pamela and they have two children Emily and Annabel.
A pump system designed by Jason has received rave reviews across the UK and Europe and even been named Caravan Accessory of the Year 2012. Jason's best seller is the new Floe system, which is a device that with the use of a footpump or small 12 volt car tire compressor enables you to drain down your own property when you are putting it away for the winter. Jason came up with the invention and refined it on his own caravan along with the help of a close family friend. In order to turn his bright idea into a business he managed to secure Invest NI funding for a patent, and then an American company based in San Diego agreed to make the prototype models. But the company have since secured themselves a distributor who supplies to caravanning superstores in throughout the UK. and the business is going from strength to strength.
I spend most of my time at my office at home or out at our fulfillment company Tricord partnership in Lisburn. I normally start about 9am when the children have left for school. Firstly I will go through emails which will have been sent in from suppliers or customers with issues needing resolved. I like to reply to as many of these as quickly as possible as we pride ourselves on our very quick customer service response. We are really busy at the moment assembling kits for the stores. I order in the raw materials and then we assemble the components before they are packaged and shipped off to the retailer or individual customers.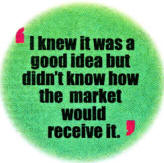 As well as assembly, I also have the general running of the business and of course I am always trying to think of new ideas and ways to expand the business. I regularly speak to suppliers all over the world, so have to schedule the calls to their hours of business, 7 hours ahead for China and 8
hours behind for the US. I also work closely with a firm in America discussing new prototypes for our new patented permanent system.
As well as the actual products I am heavily involved with the marketing of them too. This means updating the web, sorting out new packaging and organising dvd's to give demonstrations of how the products work to the customers. This is al1 very important to the business and while it is time consuming it is essential. I have business meetings about the products as well as with our investors such as In- vest NI who are helping me access the European markets. I am also just back from Atlanta where I was involved in a trade mission with Lisburn City Council.
This is all greatly benefiting the business and I am really enjoying it. As well as this I am adapting my products to suit other countries.
I am delighted with the way the business has taken off. I knew it was a good idea but didn't know how the market would receive it. I am so pleased with the way The Floe system has been received - it's just been incredible. The caravan industry really has welcomed it. Of course, having a good idea is one thing, but bringing it to market as a finished product is something else. It's a long iterative process, changing one variable at a time until you have a finished product. It can be tough, juggling your commitments, but so rewarding in the end. Perseverance is definitely key. I would like to strive to improve the company's products to eradicate frozen pipe damage completely.
Ulster Star
16/12/2011