Jim McCauley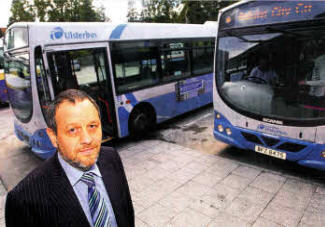 JIM McCauley, 53, from Dromore is the Service Delivery Manager for Translink. Based at Lisburn Bus Centre he has worked for the company for 26 years, starting out as a bus driver then becoming an Inspector before assuming his current role of Service Delivery Manager, a role which he has held for five years. The £2-8 million bus centre was officially opened in 2008 and is a major asset for public transport in Lisburn and local passengers who benefit from the modern fully accessible station, Jim is married to Ruth and they have two daughters, Hannah and Rebekah.
There really is no such thing as a typical day as every day brings something different. I leave my house at 7.30am to be in work for 8am. Upon arriving I will meet with the Inspector to determine how the morning service is running - our drivers start at 5.30am and the garage and engineering staff work all night so I need to know if there have been any issues overnight.
Following the morning de-brief I then catch up on my emails. This involves dealing with enquiries from the general public, local representatives and government agencies as well as internal communications with different departments within the organisation.
During a typical day I also meet a number of key contacts; these could be representatives from local schools, the Department for Region& Development or with local Lisburn Councillors, for example, discussing services and taking on board ideas and feedback.
My role involves a high degree of administration which must be kept up-to-date as I have to deal with all the correspondence of running the depot. Being responsible for 100 employees across different grades is challenging and very rewarding. Our staff is very committed and professional and strive to give our customers a quality service every day.
As Service Delivery Manager I hold regular staff meetings to keep them fully informed of various activities and promotions, such as our current special Lisburn fare. We have introduced a special £1 cash single fare and 50p child fare for Lisburn Ulster-bus City Services in June. This is fantastic value for passengers, saving them up to 70p per journey and through this special rate we want to encourage people to save money on fuel, parking and on time by travelling hassle-free and leaving their car at home.
Our Lisburn bus drivers are also selling special discounted Smartlink TravelCards for £2 during June.
These are valid for one day and allow passengers to take advantage of savings that can be made by using Smartlink cards for journeys rather than paying by cash.
It is my role to ensure my staff are fully briefed on the full range of everyday value for money tickets as well as all the special offers that we have available. When a promotion ís running I also work closely with the marketing department, the rates and fares group and the company that deals with bus shelters across the City to make sure all signs and promotional material are correctly displayed, including on the side of the buses. Towards the end of the day I do a final check to make sure everything is running smoothly and speak to the duty inspector before signing off.
I really enjoy my job. We play a key role in the local community and as such it is very satisfying knowing that we are running a great service that people can rely on.
Lisburn has plenty to offer in terms of shopping, leisure facilities and for socialising; it also has many people travelling to and from work and college. I always enjoy a fresh challenge, even after all of these years with the company so hopefully by working together with all our local stakeholders we can make public transport an increasingly attractive, best value travel option for local people.
Ulster Star
24/06/2011