Joe Conlon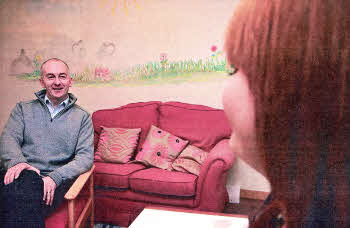 JOE Conlon, 42, from Dunmurry is a Counselling Co-ordinator at Holy Trinity Community Counselling Service - a community counselling organisation that aims to enhance the mental health and wellbeing of people from Belfast and further a field.
He is married to Ursula and they have two children Hannah, 16, and Beth 14. When his youngest daughter was a baby she was very ill and after all the support he and his wife received Joe developed an interest in volunteer work. He soon became a volunteer for Childline and decided to get the necessary qualifications to become a Counsellor in his spare time- Following a work accident, Joe who worked as an Electrician, changed careers. He progressed from a volunteer at Holy Trinity to co-ordinating the service when they received funding and support the the European Unions Peace II1 Programme- Joe is also a long term member of local group Fusion Theatre. The group's production of Disney's 'Beauty and the Beast' will be opening in the Island Hall in Lisburn on February 16, running through to Saturday February 19.
I enjoy running so most mornings I will get up early and use the treadmill. I have run marathons in the past so I do try to run as much as I can to keep myself fit. I am normally in work for 9am. I check over emails and listen to any phone recorded messages. Being a co-ordinator means that I handle referrals from GPs, health workers, education workers, family, friends and by individuals themselves. Then it is my responsibility to assess individuals and match them to one of the 32 Counsellors that are a part of the project. As well as co-ordinating the counsellors I have team meetings to organise, trainees to support and also there is the big element of sourcing funding and filling in application forms. Presently we are funded by Peace III European Regional Development Fund, CRC, BRO and Belfast Trust.
It is always a busy day but I enjoy not only dealing with the clients but making sure everyone in the team is ok.
Counselling offers the opportunity to speak with someone in a safe, non judgmental environment. The counselling relationship is one based on respect and trust. The counselling process creates the space to examine issues which are affecting your life, facilitate ways in which to explore these and helps to identify ways in which to resolve them. It is aimed at helping the individual work towards a clearer understanding of themselves and their journey and to help them make healthier, positive choices in their lives. A typical session lasts around 50 minutes. I will focus on the client's needs, issues and difficulties and will try to identify if there are any other services available to also help them. Maintaining confidentiality is very important in the work that I do as a counsellor.
As a Counsellor I work with a wide range of issues including anxiety, depression, substance misuse, Trauma issues, relationship difficulties, anger, stress, self worth, suicide and self harm. Myself and the other Counsellors work within the ethical guidelines set down by the British Association of Counselling and Psychotherapy (BACP). Recently Holy Trinity Community Counselling Service became the first counselling service in Northern Ireland to be Accredited by BACP and I am proud that the centre has been able to meet the high standards required for such an award. The counselling service operates from 9-5pm Monday to Friday and we receive funding through the EU Programmes Body to provide an 'Out of Hours' service on Monday, Wednesday and Thursday from 59pm. This mean working some late nights a week. Every client is different and I feel privileged to be able to work with them. It really is a humbling experience and so far removed from my previous career.
Some evenings I am out working with the Fusion Theatre group. I really love my job as it is so diverse and I have a terrific family who have supported me during my career change. I get a lot of satisfaction from my work.
Ulster Star
04/02/2011