Johny Caughey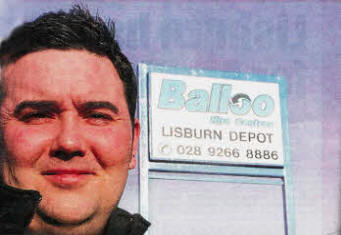 Johny Caughey
JOHNY Caughey, 34, from Lisburn is hire negotiator for Balloo Hire Centre - a leading specialist plant, tool and equipment hire provider to numerous sectors throughout Northern Ireland.
Johny, who is married to Jacqueline, has worked in the hire firm sector for 18 years, the past two for Balloo Hire.
I arrive at the depot which is based at Enterprise Crescent on the Ballinderry Road, between 7.15am and 7.30am. First of all I will check the hire jobs booked in for that particular day so I have an idea of what needs to be organised. Then I will speak to the drivers and make sure everyone knows what deliveries need to be made and then I'll have a coffee to wake me up some more. We offer an extensive range of hire products including excavators, access equipment, generators, trailers, dumpers, tools and horticulture equipment to name but a few. Whether it's a large trade client or a
DIY customer, we have all the tools and equipment they need to get the job done.
I will do some paperwork - which usually is from the previous day's hires and I will update the computer system so it is up to date and everyone knows what stock is available. I could be taking calls from customers or replying to email queries and speaking to reps. I do have a good team behind me which makes all the difference. This line of work is never simple and this means every day is different. You might send a delivery off only for a call to come in that something else is needed so this means the driver has to come back to the yard. It's never straightforward but as long as the customer is happy that is all that matters.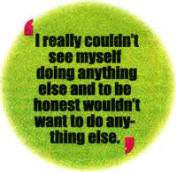 I spend quite a bit of time outside speaking with customers giving them advice about our equipment. More and more people are coming in to hire equipment for DIY jobs and I like to spend time with them explaining how certain machines work. There's definitely been a rise in the number of people doing jobs about their houses themselves.
I liaise with the depot manager on a regular basis and I spend quite a bit of time on managing the rental side of the business. Organising rentals and ensuring the customer knows how the machine works takes up a large chunk of my day.
We provide our customers with quality and value and this really is at the heart of everything we do, so whether the job is big or small, our team of trained, dedicated customer focused experts will provide sound professional knowledge and advice.
We have extensive range of Arco safety products and work wear, including Personal Protective Equipment (PPE), gloves, footwear and clothing so this brings in a lot of customers to the depot and keeps us busy. There's always something to do. Our partnership with experts in safety giants Arco Ltd is going from strength to strength and enables us at Balloo Hire to create a unique offering not just plant, tool and equipment hire but also of safety products and practical expert advice. I normally secure the premises after 5pm after getting everything ready for the next day.
I've been doing this type of work since I left school and became a fitter and have worked my way up the ladder. I really couldn't see myself doing anything else and to be honest wouldn't want to do anything else. I enjoy working with the team in Lisburn and it's great to be able to say that.
Ulster Star
02/12/2011