Julie Curry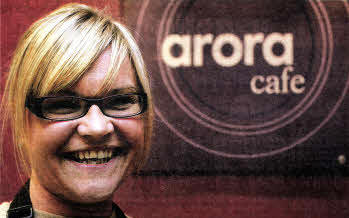 Julie Curry, 36, is the Manager of Cafe Arora which has now moved near to the Bow Street entrance of the mall, having been established at Hanna Browne store for the last seven and half years. Julie lives in Ballynahinch with her husband Geoff and son Luke.
Each morning I leave my son off at my mother's house and then I drive to Lisburn and am in for 8.30am. The cooking staff will be in already preparing the fresh food and I will start the general set up for the day ahead. I make sure the cafe is clean and all the displays are tidy before opening up for the breakfast trade at 9am.
As manager I am responsible for the day to day running of the cafe. I look after the counter, manage the staff as well as serving the food and making sure everything is running smoothly. The girls who own Arora are on hand if there's any issues and we often have meetings to discuss how the business is running. They thought it was time for a change to new horizons and it's been great to welcome customers old and new who share our passion for good food.
We concentrate on hot meals, soups, salad selection. sandwiches, specialty teas and coffees, tray bakes and of course the famous scones freshly prepared on the premises. I enjoy getting to sample all the foods we offer and it's really good to know what ingredients are being used so I can inform the customers. A lot of people do have allergies so I can advise them of what foods they can eat. The produce at Cafe Arora is fresh and locally sourced and we strive to make great quality food which appeals to all.
It's great to get good feedback about the food and I really enjoy talking to the customers. We have lots of regulars and I've got to know them really well over the years. Sometimes people just love a chat and it's always nice to see them.
I also have to sort out the tills and floats and make sure the counters are filled out during the busy spells. The trade is fairly constant but if there's any quiet spells I'll see what the stock levels are like and if they are running low I will place orders with the relevant suppliers. When the deliveries arrive I mark it off and file away the paperwork.
We are open 7 days a week including evenings of which I work one night a week. We are also starting to offer an outside catering service for corporate and private functions. This is a new adventure for us and I am looking forward to the challenges it will bring for us.
I am responsible for making sure we maintain our excellent reputation for hygiene and am aware of all the necessary health and safety regulations which need to be adhered to.
Towards the end of the day I will make sure the cafe is clean and tidy and then if I am on the late shift I will cash up and secure the place before leaving. I go home and have dinner with my own family. I don't get sick of seeing food which people often expect because I am working with it all day. I enjoy working with the public. It really isn't a chore to go to work because I enjoy it so much.
We've only been in the new location several weeks and it' been great to see the regulars supporting us and also meeting new customers. It's a very exciting time for the business and I'm glad to be part of it.
Ulster Star
15/07/2011