Katie Patterson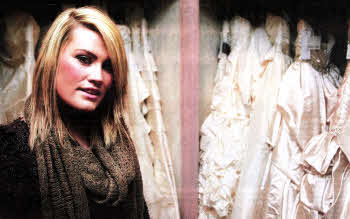 KATIE Patterson is co-owner of Petticoat Lane Bridal Boutique, Hillsborough along with her mother Denise - and both have a real flare for all things bridal.
Katie, who has a geography degree, worked for a local logistics firm but had always dreamt of opening up her own bridal boutique. When a unit became available in Hillsborough this year she knew she had to take the plunge. Katie is set to get married to her fiancé Neil next year.
Now the boutique has opened, every day is very different. We are open six days a week and have late nights on Tuesdays and Thursdays so a lot of my time at the moment is spent at the shop.
As a bride to be myself, I understand the importance of finding that 'perfect dress' so we offer an intimate, specialised service for each and every bride. The decor of the shop has a vintage inspired theme, with luxurious carpets throughout, spacious changing areas and opulent lighting.
Each bride is different and therefore all the gowns have been carefully picked to ensure we have the 'perfect dress' for each and every bride. We are the only stockist of New York based designers Amsale, Christos and Kenneth Pool within the UK and already have had brides to be travel from as far as Dublin and even Sweden to view the collections.
On entry the ladies are welcomed and brought to the 'The Porcelain Suite', a haven of elegance and luxury. Along with the bride's nearest and dearest, refreshments are offered to allow a relaxed atmosphere. Most appointments last one hour, although if the bride to be would like more time we can certainly accommodate them.
We do like brides to make an appointment for 'The Porcelain Suite' so we can dedicate our time to them but visitors to the village can drop by and we will do everything we can to look after them. We also stock Mother of the Bride/Groom, bridesmaid gowns, formal attire and accessories on the ground floor of the boutique which is appointment free.
When an order is placed we ensure the bride's gown is stored until the day before their wedding and pressed for collection. We also work with an independent local seamstress who will come to our store at the bride's convenience. Additional services we offer to take the stress away from the bride is coming to their home on the morning of the wedding and dressing them and their attendants for their special day.
If I'm not involved in an appointment, I will be e-mailing potential clients who have requested information, arranging appointments, updating our website, blog and social network sites and placing orders with suppliers. New deliveries arrive regularly which have to opened, dresses steamed and priced. The window display is changed regularly to keep all passing interested in what is in store.
We also need to attend bridal buying shows which run annually in March and September in Leeds and New York.
I'm really delighted to have opened the shop and hope everything is a success. I really couldn't have done it without the help of my close friends and family who have supported me in every way. It really is a dream come true. I hope all brides to be will pay us a visit, we can assure they won't be disappointed.
Ulster Star
07/01/2011