Kelly Shaw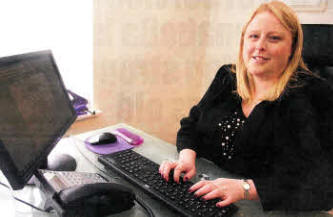 Kelly Shaw, 31, runs Shaw & Company Solicitors' practice in Hillsborough. She set the business up in March after spending five years working as a Solicitor in Saintfield. Kelly decided the time was right to go out on her own even though the market was not particularly good, but she knew moving to Hillsborough would be a good step for her and says she definitely has made the right decision as her business is going from strength to strength.
I am normally in the office before 9am and I have a coffee while I review the diary and necessary papers for the day ahead, before my first client arrives. As a solicitor your days vary in terms of the needs of your client. Often I will be required to be in Court in various parts of the province. Some Court hearings can last all day, while others may be just a few hours - it depends on the cases involved.
Running a general practice means we offer a full range of legal advice and services for individual, community and business needs. We are a friendly local company who provide legal advice and services to the highest standard, delivered in a cost effective and professional manner. Clients often contact us at a difficult and stressful time in their lives and I understand how important it is to offer personal attention to every client. Every client and every case is important to us. My job is to work for the client — I am here to help and I tailor our services to clients' needs. I feel it is important to keep my clients fully updated on the progress of their case and I like to offer a friendly service. Many people find the legal system intimidating so I try my best to ensure that we offer a friendly down to earth approach while at the same time maintaining the highest professional standards.
Most meetings with clients take place in our offices located on Lisburn Street, Hillsborough, but we are also responsive to clients' needs and offer appointments throughout the province at a location to suit them.
I could be out at a consultation with the client and Counsel in the afternoon, or if I am in the office I can be preparing a brief to Counsel or meeting with clients to discuss their case. I spend a lot of time on the telephone updating clients in relation to their case or talking with the solicitor on the other side of a case as regards information required or negotiating to settle a matter - so there is never a dull moment.
I deal with a lot of family matters so I could be drafting divorce petitions and negotiating financial settlements as well as working on all children law matters including residence, contact and domestic violence issues too. I could also be drafting Wills and Enduring Powers of Attorneys or working on the administration of estates, which includes obtaining Probate of a Will after death and dealing with the distribution of assets of the deceased including property transfers. Litigation is another major area for me. This includes road traffic accidents, personal injury claims including accidents at work, medical negligence, and contractual, commercial and building disputes. Along with these, debt recovery, employment, company law and criminal matters are also areas I work in quite often. Sometimes I may have to attend an unexpected Court hearing for an emergency application, but my office manager is great at keeping the office running smoothly. Most nights I would take work home with me to prepare for Court, but there are nights when I can go home and lust relax by spending time with my husband and two dogs - so it's not all bad.
I have really enjoyed the challenge of setting up my own practice at a difficult time for small businesses.
It has been very exciting and I am delighted to be able to offer my services in the area and I feel satisfied knowing that I offer people a fully professional, yet also personal approach within an informal and relaxed environment.
Ulster Star
05/08/2011