Laura Fleming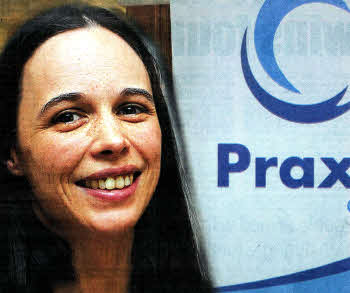 Laura Fleming, 30, is Project Manager of Parklands and St Paul's Court schemes run by Praxis which registered as a charity in 1983. Praxis Care is a major provider of services for adults and children with a learning disability, mental ill health, acquired brain injury and for older people, including people with dementia. The group was established in 2002 by the merging of three well established charities in Northern Ireland. Laura is originally from Strabane but now lives in Lisburn with her husband Stewart and children Ronan and Niamh. She has worked for Praxis Care for over six years having always had an interest in mental health and studied psychology at University.
After a hectic morning getting the children organised I head to work for between 8.30 and 9am. I am based at St Paul's Court on the Ballinderry Road but I regularly make visits to Parklands on the Belsize Road.
The Parklands scheme provides accommodation and support services for older individuals and consists of an eight place house where residents receive a support service from 24 hour staff on site with shared facilities including common rooms, kitchens and a laundry room.
The Parklands scheme is designed to allow residents to experience everyday living, with space for leisure and recreational activities and allow residents to live as independently as possible. It has a warm and welcome atmosphere, tenants regard it as their home and are very proud of Parklands. The aim of supported living is to keep people as independent as possible for as long as possible by helping people to do things for themselves.
St Paul's Court has purpose built accommodation consisting of 15, two bedroomed bungalows providing support to older people with dementia.
The recently opened new building caters for individuals suffering from require more intensive support and consists of eight self contained apartments with a common room and associated facilities to complement the original 15 bungalows.
St Pauls Court is great as we can focus on individual's needs and it's great that families can stay together. We have had some husbands and wives and brothers and sisters living together, this would not be possible in a more traditional care setting.
Normally I start the day checking emails and finding out what's been happening since I was last working. There is a handover at the end of each shift and the staff keep me informed of what's been happening.
In the mornings I sometimes help distribute medication too if we are busy. It's all about team work here and everyone pitches in to get the best for the tenants. You really have to be hands on in this job.
As Manager I am responsible for the daily running of the schemes. The team leaders involved in both projects keep me updated on everything that is happening. This is essential.
Throughout the day you will most likely find me in the office. I could be doing anything from paperwork to managing budgets to arranging a fashion show. I also have regular meetings with tenants and their families to discuss their needs and care related to what they want.
It is important to involve family as they know the person much better than we do and can tell us all their likes and dislikes so that their care is tailor made to their individual needs. I also work closely with care managers who help us to access services, this ensures we provide the best possible care for our tenants.
I attend regular staff meetings, review clients and I will be going through referrals for new tenants too. There is a waiting list for places and it can be difficult when you know there are so many people who need the service.
I am constantly looking at devising new activates for the tenants and regularly hold fundraising events.
These could be car boot sales or fashion shows or most recently we invited the Mayor to come along and see the tenants. It's very important to get the tenants involved with the local community too so we come up with lots of ideas on how we can achieve this.
The tenants are remarkable and always out and about doing something and keen to get involved in what's going on in the scheme. You couldn't do my job unless you loved the work. I am very proud of the tenants and staff and all that they do.
It means a lot to see a tenant settle in and enjoying living here. It does give me a sense of satisfaction.
Ulster Star
12/08/2011