Linda Craig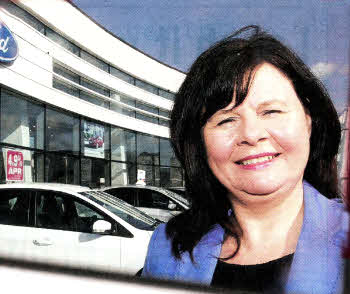 Linda Craig
LISBURN woman Linda Craig is a Motability specialist for Lindsay Ford based in Market Place. She has worked for the firm for over foul years and has extensive experience in the car retail industry and Motability Scheme.
Founded in 1977, Motability is a national charity helping disabled people, their families and carers become mobile.
We know that having a car can give you the freedom of independence. With Ford Mobility, we can also provide you with real freedom of choice, with an extensive range of award-winning cars that deliver versatility and roominess without compromising on performance, driveability or style The mother of two teenagers, Natasha and Nicholas enjoys working with the public and says she gets a lot of satisfaction from her role.
I leave my house at 8.10am to do the school run and then I head to the office and get myself organised before the busy day begins. My role is all about customer service. I like to build a relationship with my customers to determine their needs and find the most suitable car for them. I also deal with all the paperwork to make the process hassle free. I feel you have to care about the customer. It's all about exceeding their expectation. I like to stay happy, positive and I take pride m what I do. I get a lot of satisfaction when I know they are happy
The thing I love about my working day is the atmosphere of the showroom. Everybody has a great attitude and are very friendly and a joy to work with.
Lindsay Ford have been helping disabled people and their carers get on the road for over 25 years. Using the Motability Scheme, the company have supplied over 3,250 motability cars in the last three years alone and we aim to make the process as easy as possible.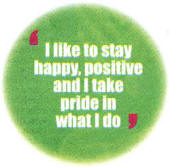 I am trained by Motability and can help at all stages of the application process from choosing which model best suits the customers' needs to helping complete the paperwork. It really is quite a simple process and a large majority of it is completed online. I am happy to explain the whole process. If people are new to the scheme it can all seem a bit confusing but in reality - it is quite simple. You give the higher rate Mobility component of your DLA to Motability Finance, and you get the new car of your choice. The Motability package includes on the road costs like Insurance, Servicing, Road Tax. The only thing you may have to pay is a small advance payment depending on the model you choose. Many models are available with no advance payment. I encourage people to call in and discuss it with me. I have a lot of customers who call in just for a chat and this is something I really enjoy. It's great having that relationship with them and it's also good for business too.
I really enjoy my job. The company, which is one of Northern Ireland's Top 100 companies is great to work for. It's really satisfying when you see a customer drive out in their new car very happy and pleased with our service.
When I finish work it's all about spending time with my family however weekends mostly consist of taxiing the kids about. I love going out for meals and relaxing after a hard week.
Ulster Star
09/09/2011