Louise Lavery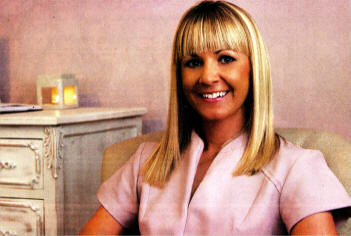 Louise Lavery qualified as a beauty therapist in October 2000. Shortly after she got a job in a local beauty salon before opening up Lr beauty in March 2005, in Lisburn City Centre. After a lot a thought and consideration she decided in this tough economic climate to bring her business home to the Glenavy Road and so is embarking on a new chapter of her business, and says it was the right decision. Louise is married to Alan and they have a son called Tom.
My day begins getting myself and my son Tom ready and I'll bring him to my mum's. Then once I arrive home I'll run through my appointments for the day making sure I'm well organised for the treatments I have ahead of me. I like clients to feel as relaxed as possible when they arrive to the salon so the more organised I am the better their experience, and I like to try my best to make sure all appointments run on time.
No day is ever the same in working in beauty, your client could be in for 20 mins or three hours, clients range from teenagers to mature ladies, and no treatment is alike, you could be having a giggle and a catch up doing someone's nails and then an hour later you could be in candlelight and silence performing a facial. It's really important to me that the client feels at ease when they are in and I hope that this comes across.
Making appointments via email, text messages and social networking sites seems to be very popular so throughout the day I'll keep in touch with clients and try to respond as quickly as possible to any requests. If I leave the house to go to the wholesalers then I transfer the calls to my mobile and have the facility on my phone to check appointments so that I'll not miss any calls. I also provide a postal service for clients ordering dermalogica products, so I'll often nip out to the post office to send them away as soon as I can and if I'm too busy Alan will help me out with this.
Late night appointments always book up quickly and are very popular, so I work late nights Monday to Friday to try to accommodate clients the best I can. I'll normally get finished at about 9pm and then I'll have a thorough clean of the salon to leave it ready for the next day. Working from home is great, if I have a day when I've no clients booked in at the beginning or end I'll spend the extra time with Tom or pick him up early from mum's. Clients will have appointments if they are booked in so working from home gives me the freedom to do this, and if I get a chance during the day I'll run the hoover round or hang my washing out, which is great as a busy working mum there are never enough hours in the day.
Social networking sites have been a very useful tool in promoting my business so I'll try to keep interest high by providing daily posts from advice on skin care, photos of make-up, and other treatments and have regular competitions too. This is something I'll do when I'm sitting down relaxing at night.
I have to say I have great job satisfaction. Beauty is a fast moving, ever changing industry, and I try to keep educated on the latest products and techniques on the market. Dermalogica are great at continual professional development and run excellent classes all year round, which is great for learning about new products and refreshing your knowledge of old one's too. It's also a great way to meet other therapists.
The most rewarding part of my job is helping clients feel less stressed and more confident about themselves. It's a great feeling to develop a great relationship with a client and when they recommend your services to a friend, it's the biggest compliment.
The weekend for me is time to relax and spend quality time with my lovely husband and son. I really appreciate the time we get to spend together as a family, so we will always try to do something nice and relaxing, I love nothing more than heading for a walk or to the beach.
Ulster Star
27/05/2011