Michael Bogle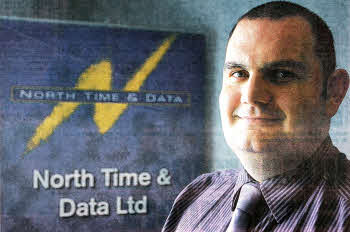 MICHAEL Bogle, 32, is Customer Support Manager for Lisburn firm North Time & Data Ltd which has been providing effective solutions to a wide range of business sectors in Northern Ireland for over 20 years. The company, based at Enterprise Crescent, Ballinderry Road Industrial Estate, supplies Mailroom Equipment, Time Management Systems and ID Card Solutions.
Michael studied for a degree in Computer Science at the University of Ulster, Jordanstown before taking up a post within the health service which he left just over four years ago to join North Time and Data. He lives in Dollingstown with his wife Nicola and their young children Olivia and Warren.
I am awake around 6.30am. With two young children there's always plenty to do before I leave for work. I am usually at my desk for 8.15am and normally I put the kettle on before settling into my work. I will see what is planned for the day and then will have a meeting with the engineers most mornings. The jobs are prioritised and it is up to me to make sure that engineers know what jobs they have on and what is classed as a priority. I report to the Sales Director and we are in constant contact throughout the day, discussing priority jobs, system implementations and delivery turnaround.
Making sure customer queries are dealt with effectively and efficiently is vitally important to me. We strive to provide excellent customer service, and are constantly reviewing our performance to see how this can be improved. Car tracking technology is installed in all of the engineers' cars, therefore if an urgent job comes up, I can see at a glance if an engineer is in a nearby area. Managing customer response times is vital. I do quite a lot of paperwork so one day I might be in the office doing this and then the next I will be out on the road visiting customers or installing equipment. I do enjoy keeping my hand in with the technical side and keeping skills up to date.
I am constantly keeping in contact with my staff to make sure everything is running smoothly, through email and telephone communications from the engineers who all have Blackberry's. All queries from customers are directed to the helpdesk where the relevant department will be informed and the call assigned. The work will be delegated and booked into the system. It is essential to keep on top of things to ensure all calls are resolved as quickly as possible. As a supply and service partner to many leading companies and local authorities the firm is acknowledged as the premier locally owned Time and Attendance company in Northern Ireland. North Time and Data are the only accredited supplier of biometric school registration systems in the province. This means that instead of a teacher calling a roll in the mornings and after lunch, the pupils simply register their attendance by placing their finger on a biometric clocking terminal. Staff frnd they have more time for in the classroom for teaching and the pupils feel they are using technology that up until now was only seen in James Bond films. We also supply and service electromechanical clocks along with providing all required consumables such as cards, ribbons and card racks. The company has been involved in the ID Card Production Industry for over 10 years. Our experience in working with both public and private sector organisations has enabled us to develop a comprehensive range of ID card solutions and ID card systems. As already mentioned, we are also a premier supplier of mailroom equipment in the province, including franking machines, folder/inserter equipment, letter openers and mailing scales.
Towards the end of the day I will make sure my paperwork is up-to-date and update the helpdesk with any fault resolution details. Finally, I will prepare the work for the following day before heading home. I really enjoy my work - the business keeps going from strength to strength and it is something I am proud to be very much involved in. Outside work, I enjoy spending time with my family on days away and just relaxing after a busy week with good DVD or book and a glass of wine.
Ulster Star
25/03/2011