Molly McCluskey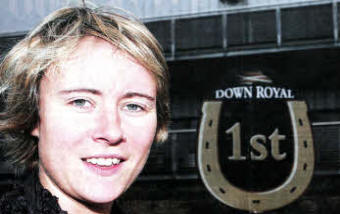 Molly McCluskey, 29, is Tote and Marketing Manager at the Down Royal Racecourse where she has worked for over two years. She studied law and was called to the Bar in London before deciding to come back home and settle with her husband Lee in Belfast. Having also studied for a diploma in the breeding and racing industry and coming from a showjumping background, she applied to work at the racecourse when a job was advertised and hasn't looked back since.
My job is so varied and there is always lots going on. A typical day sees me cleaning out and feeding my own horses before getting ready to drive to the racecourse. Most days I work 9am - 5pm but given the nature of the job, I can't really predict my working hours around race meetings. When I get into the office I usually start the day going through my emails. I could be dealing with queries from the general public or any of the parties involved with race day organisation. I also have to update our website and social network sites making sure all the latest information is available. Then I will sit down with my colleagues - we have a small team of three - to discuss the day ahead and make sure we are on top of everything that needs to be done. With so few of us it means that we all have to be very much hands on and there is always a lot to do which helps keep us all motivated. We plan well ahead of all the race meetings - as much as twelve months in advance to try and get as much signed off in advance as possible. This means I have to be organised. I handle the adverts and marketing ideas and am in regular contact with local publications making sure our events are well advertised. In terms of raceday organisation my main responsibilities involve organising Tote staff and equipment, informing the medical teams, paramedics, blacksmith and Turf Club stewards of the details for each meeting and processing all the online bookings and ticketing requirements. At the moment I am concentrating on marketing the racedays and processing bookings. We have noticed more of a shift in the market towards last minute bookings and the functionality of our website and social networking sites are hugely important to ensure we don't miss out on these customers. I work closely with Mint Design to ensure we give the customer the easiest and most straightforward experience on our sites. I do still use my legal experience to advise in-house on any issues arising.
I am out and about quite regularly meeting people involved with putting together the racedays. There is a lot of preparation that goes on behind the scenes for a raceday. For example the Afternoon Teas are back this year for the May Day Races so I have been working with the team from CMPR who are helping bring a fashionable flare to the races this year. We will be working alongside chic boutique Candy Plum, from Hillsborough, to showcase their hottest spring summer looks on some of Ireland's top models, while guests enjoy a traditional pre-race afternoon tea.
On a race day I am usually in work for around 8am. I will focus on the tote system and sort out floats and co-ordinate the staff as well as setting up the computer betting system. I check in with the staff and make sure everything is running smoothly. Once the race meeting is over there is a de-brief and then a last minute check over the site to make sure everyone is off the premises before I head home.
I thoroughly enjoy my job, it is so varied and everyday produces a new challenge.
Ulster Star
29/04/2011