Muriel McCluggage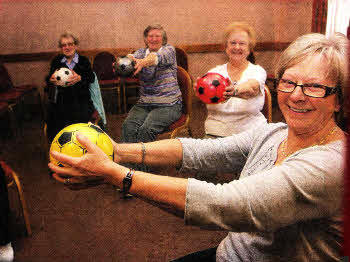 MURIEL McCluggage is a volunteer with the Moira Friendship Group based at the St John's Parish Centre Moira where she takes a chair based exercise class each week for people who are over 50 and need some support. The Group was formed in September 2002 to address social exclusion and provide a platform to promote friendship and wellbeing among older people living within the Moira area. It facilitates a range of social, cultural, recreational and physical activities which offer older people the opportunity to pursue a healthy, active and positive lifestyle. Muriel retired when she was 60 and led a very sedentary life for three years. During this time she joined the Moira Friendship Group just to get some exercise and at first she used to go and do her exercise and leave without talking to anybody. Then she started to get more involved and was asked to train to teach chair based aerobics. This led on to her qualifying as a walk leader and now Muriel is on the Management Committee and activities sub group. As part of the European Year of Volunteering and building on last year's successful event, Volunteer Now recently called on over 50s in Lisburn to join them to try their hand at volunteering.
Before my classes I will rehearse new routines and find suitable music to go with them at home. My exercise class follows a 'way to health' programme, which runs at the centre. Members are weighed and health and diet is discussed before I come in to take my class for half an hour. Firstly we do a warm up to mobilise the joints so we aren't too stiff and then we start to work the muscles and joints, At the end we do some stretches and then the class finishes.
Before going out with a walking group myself and the other group leaders will go investigate new
places to take the groups. Then on the arranged day of the walk we all meet at the parish centre - normally about 50 of us and go on the bus. Once everyone has signed in and registered we head off and when we reach our destination we go for a walk, then have coffee and a chat and head back to Moira at around lunch time. Out side of the group hours some of the members meet for coffee and a chat and it's a great way to get know people.
I just love working with people and really enjoy the activities and the music. It's great because it also means that I get good exercise and have fun at the same time.
Volunteering can bean integral part of a healthy, happy and rewarding third stage of life. Whether
people have retired or are even thinking about retiring they should consider giving volunteering a go for the first time or try something different for the day.
Too often our population growing older is presented in negative terms and as a burden on society. However organisations like Volunteer Now try to challenge some of these stereotypes and show the real positive impact that is made by older volunteers to Northern Irish society.
I never thought that I would be a volunteer but look where I have ended up - I would definitely recommend getting involved with something that you enjoy doing m the first place. Volunteering will be a continuation of that enjoyment and you will really love it I'd encourage anyone who wants to find out more about volunteering options to log on to www.volunteernow.co.uk or call 028 90232020.
Ulster Star
07/10/2011