Nicola Lockhart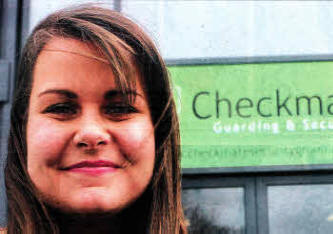 Nicola Lockhart, 28, is Business Development and Training Manager for Lisburn firm Checkmate Guarding & Security. Based locally since 1975, Checkmate has provided various security services to companies and government departments up and down the province and recently moved to new premises in the Crescent Business Park.
Nicola who lives in Maghaberry with her husband John and their baby daughter Lucy, has worked for the firm for five years after completing a Law Degree and deciding that she wanted to pursue a career in marketing.
I arrive at work for 8.30am and get together with the team to discuss what has happened overnight. The business runs 24 hours a day so I need to know of any issues which may have arisen. Our control room is manned 24 hours a day by professionally qualified and trained staff allowing us to respond to every situation that arises, giving our client complete peace of mind. We provide a comprehensive list of security solutions. In addition to the Keyholding and Alarm Response, Mobile Patrols, Static Guarding, CCTV Remote Monitoring, Builder's Merchants and Security Consultancy, we also offer specialist retail guarding, undercover Store Detective, customer Service "Mystery Shopping", lone worker monitoring and maintenance reporting patrols.
I am mostly involved in signing up new customers and dealing with client issues so I spend a lot of time out on the road as well as at my desk drawing up contracts and organising staff. I have to identify the precise needs of the customer before establishing the best solution from a wide range of available security services. I could also be updating the website or working on marketing campaigns.
We aim to provide the customer with the highest possible standards of professional care and protection regardless of how big or small a budget may be, or whether the service is in the public, private, domestic or commercial sector.
Another aspect of my role is to make sure all the staff are trained and informed about their duties and responsibilities. We invest heavily in our team to make sure that our customers receive the best service possible. I am a trainer myself in conflict management, which is all about managing different situations and this is something I really enjoy doing. All officers receive rigorous training and are subject to continuous on-site supervision and random quality inspections.
The last two years have seen many Northern Irish security companies close their doors due not only to the influx and domination of larger multi-national companies, but also due to recent SIA licensing regulations which put a huge financial strain on the smaller local companies. We had a huge mountain to climb getting our staff ready for the SIA licensing which came in to force in December 2009 - not only did we have to train and licence all of our own staff, but just before the deadline, we won the Northern Ireland Civil Service contract which tripled our workforce and output, putting us under even more pressure. It was extremely difficult but we pulled together as a team and we made it through. We are so proud of our achievements and our new office is the icing on the cake.
We give our customers something that the larger companies simply have not been able to give - we are a local company providing local services - our customer service is second to none and we pride ourselves in our staff and their professionalism in all aspects of security.
Before I leave around 6pm I will do a 'handover' with the operations department so they know what has been going on. Then I will go home and spend time with my family and friends.
I love the variety of my job. We have a very close team and everyone helps out which makes it a great company to work for.
Ulster Star
01/04/2011