Paul Johnston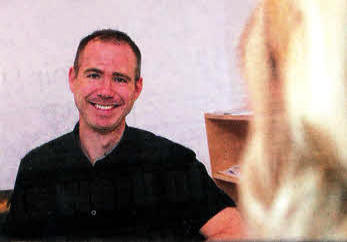 Paul Johnston is a fully qualified and registered Clinical Hypnotherapist, with his own private practice (Paul Johnston Clinical Hypnotherapy) based in Moira. Educated at graduate level, and after successful completion of extensive theoretical education, developed his skills with practical clinical training at the Brief Strategic Therapy (BST) Foundation, Queen's University, Belfast. He continues to develop his knowledge and skills with ongoing education, training and research, into clinical hypnosis/hypnotherapy and psychology. Paul is a full and accredited member of both the General Hypnotherapy Register, and the government/NHS approved, Complementary and Natural Healthcare Council. Paul is married to Karen and they live in Dollingstown with their young children Jake, age 4, and five month old Jessica.

After breakfast, and the school run, I check my appointments for that day. When I am not with a client, I'm online keeping myself up-to-date with various psychological studies, or working on
ways to promote the clinic, and responding to queries from people interested in coming to see me. I offer one-to-one clinical hypnotherapy from my clinic in Moira, to those who want to quit smoking, lose weight, or cure a phobia, to name a few. I help to facilitate positive change, helping clients to make that change, whatever it may be.
By utilising hypnotherapeutic approaches which are based on proven psychological principles,
you can achieve what you need, quickly and comfortably. The initial consultation is free of charge, at which I put together a case history in order to assess the clients needs, and find out why they are here to see me. I only work with people who I think will benefit from treatment, and who genuinely want to make positive changes in their lives, as I believe that all real lasting change begins from within. I am used to dealing with people in both a friendly and professional way, providing a completely private, confidential and ethical service. All sessions are individually designed to meet the unique needs of the client, providing brief, strategic, solution focused therapy. As I begin a session, I ask the client to settle down comfortably into as relaxed a state as possible and take a few, deep, calming breaths. I continue with an induction leading the client into a state of hypnosis based on feedback gathered at the consultation, then deepen the trance state, enabling the client to relax even more in body and mmd, and then continue with the appropriate therapy. I use various techniques including behavioural, aversion, desensitisation, metaphors and stories within the session, using psychology and clinincal hypnosis to help peoplen change negative thinking patterns and responses.
I also offer the Aplha-Stim range, being the only clinic in Ireland, concentrating on the Alpha-Stim SCS (stress control system) for both rental and purchase. The Alpha-Stim SCS is a precision medical instrument that is clinically proven, and has been scientifically evaluated over many years, being FDA approved for the treatment of stress, anxiety, depression and insomnia. Alpha-Stim uses cranial electrotherapy stimulation (CES), the low level current being applied via ear clip electrodes. The treatment is non-invasive and drug free, and unlike some drugs, the Alpha-Stim SCS leaves the mind alert. The treatment is simple and can easily be self-administered at any time, following initial consultation/clinical assessment.
I really enjoy my work, meeting new and interesting people each day, and seeing positive change happen on a daily basis.
Ulster Star
16/09/2011