Jenny Monroe talks to Robert Martin, co-director of `R-Space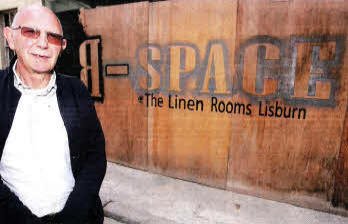 Robert Martin
Robert Martin, is the Co-Director of new art gallery 'R-Space @ The Linen Rooms Lisburn' created to house facilities for artists, designers and makers to develop, create and show new work that crosses alh artistic and creative industries boundaries.
Originally from Cumbria, Robert now lives in Belfast. Last year he went into partnership with fellow Director Anthea McWilliams and the concept for R-Space was born.
Anthea and I have been very busy preparing for the official opening of the gallery but all the hard work has paid off. As R-Space is in the heart of the historical quarter of the city we are hoping people will appreciate that it is a ground breaking contemporary arts and cultural tourism facility to enhance and promote the creative activities of Irish artists and designers on a National and International stage. It is intended that the facility will be as self sustaining as possible in that core to its activities will be a commercial aspect that embraces wider cultural activities including live performance opportunities together with eventually bespoke tourism accommodation facilities, albeit at a later stage. Where possible the initiative will also programme exhibitions celebrating the local cultural legacy of the Victorian philanthropist Sir Richard Wallace and later this autumn a unique ten year retrospective exhibition celebrating the local award winning amateur photographer Harry Duff.
We are currently exploring funding and finance routes to realise this current research and development phase and are actively seeking private investors interested in supporting this unique cultural tourism initiative in Lisburn City centre. This means arranging meetings to discuss what we have to offer and show potential investors the building and the plans we have for it.
Future exhibitions are already being planned for R-Space and I have been busy negotiating with artists, both locally and internationally. Because of my experience and contacts world-wide, I am trying to bring international artists to the city and am spending time networking constantly. In this business it is all about striking working partnerships and so I am trying to build up relationships with local cultural venues and businesses too.
Throughout the day, as manager, I will be in meetings, making phone calls, meeting local artists and building business contacts as well building publicity for the gallery and welcoming visitors.
I could be developing a theme or challenge for the exhibition programme - it is essential to plan well ahead. I will curate the shows, each lasting six weeks and am currently scheduling the first four major exhibitions happening this year. The overall scheme for The Linen Rooms will be delivered in three phases, with Phase One now complete - the new gallery and exhibiting space opening with a one-woman show by international artist Anna Dumitriu. Phase Two and Three (2012/13) will see the launch The Linen Rooms Lisburn - six Georgian style en-suite guest rooms, a courtyard café and artists studios, all centred around a bustling courtyard, celebrating culture, crafts and the arts.
Historically, the 18th century building was originally the Rectory to Lisburn Cathedral, an aspect we are keen to promote. All the refurbishment work has been funded privately with additional project arts funding applications being made to support the programme of exhibitions scheduled during the first year. I am very interested in hearing from writers groups and people who like to perform live - this really isn't a conventional gallery and so will include all sorts of arts and cultural activity.
I do hope to develop the cultural scene locally, particularly in the Historic Quarter. In a time when people may not have a lot of money we aim to offer affordable entertainment and I do hope the people of Lisburn will enjoy what we have to offer them on their doorstep.
Ulster Star
29/07/2011