Rym Akhonzada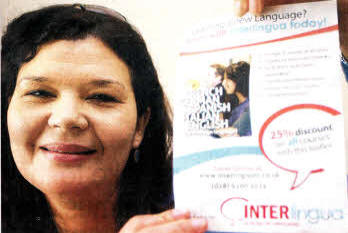 Rym Akhonzada, 36, is founder of Interlingua School of Languages in Lisburn. Interlingua offers language classes for those with either a professional or leisure interest in foreign languages.
Originally from Tunisia, Rym settled in Lisburn in 2004, Fluent in Arabic, French, and English and a bit of Italian she holds a degree in English language and linguistics. Rym trained in community interpreting and worked with ethnic minorities communities throughout Northern Ireland. She then took up a research post at Queen's University but knew her heart lay in setting up her own business and this is exactly what she did in 2010 and her business has gone from strength to strength.
Every day I will be doing preparation work in the morning before classes. I could be out at schools or local community centres taking lessons. Our language Courses are available for those starting a new foreign language, improving a language already studied or preparing for exams. We cater for the young or old and as well as group classes and one to one lessons.
The courses are taught by myself and a team of friendly and experienced teachers. We keep our classes small (10-12 people maximum). This allows for increased interaction between the students and the teacher and the students receive special attention for pronunciation and everyday language use.
The school offers a variety of language classes at different levels. Whether it is Arabic, French, Italian, Spanish or English as a Foreign Language, we can deliver all language needs. The courses are offered at Beginner level, Intermediate, and Advanced.
Some people who come to us are planning to move abroad or need to learn a language for business or holidays. Others are preparing to take a GCSE, or A Level exam and others just enjoy the challenge that language learning offers.
Our fun and interactive children language clubs are the perfect way for children to boost their confidence and take the first steps towards learning a foreign language. The ability to speak a foreign language can often give youngsters the edge later in life in university or job applications, so it's never too early for a child to start learning a different language.
The emphasis at the language club is very much on fun - there are no tests or assessments - and our teachers will do everything they can to help the children develop their skills and confidence. We'll play games, sing songs, cook international food and watch films to bring languages alive for children.
As well as teaching the classes I also have to concentrate on running the business. When taking on new tutors I have to do police checks and get Access NI before they can start teaching with Interlingua. I also prepare timetables and allocate different tutors to different courses and levels. We also work closely with schools and run after school clubs in primary schools around Lisburn.
I am passionate about the benefits of learning a foreign language and believe the younger you start the better it is. Learning a new language can not only be hugely enjoyable but a real confidence booster and a great head-start in life.
The business is going very well and I am really enjoying teaching and promoting languages. I always aimed to do this and I am delighted that it has all come about so well. Setting up Interlingua had its challenges and it wasn't easy but my passion got me through it and it is such a fulfilling job with so many great opportunities.
For more information check out: www.interlinguani.co.uk
Ulster Star
19/08/2011