Samantha Moore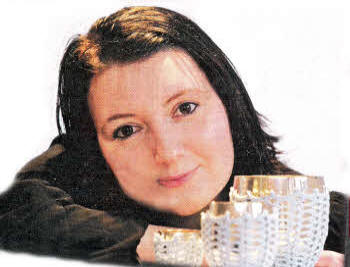 Silversmith Samantha Moore, from Hillsborough
CONTEMPORARY silversmith Samantha Moore, from Hillsborough, is one of the most sought after silversmiths of her generation She graduated in 2009 from her BA (hons) Fine and Applied Art in the University of Ulster. Working under the tutelage of renowned Goldsmith Graham Harron, Samantha has enjoyed success early in her career having work exhibited with the V&A, The Worshipful Company of Goldsmiths and the National Trust. Working mainly to commission, her range is extensive, from bespoke engagement and wedding rings and fine jewellery, to awards and trophies, chains of office and ecclesiastic silver.
With an extensive knowledge and skills base Samantha has devoted her time and expertise into creating a truly individual business as the forefront of the craft revolution. This visionary business will be the leading example for applied arts and rural craft industries in Northern Ireland.
I am based in a workshop in Killyleagh so each morning I drive there and get ready for the day ahead.
There really isn't a typical day as I'm always meeting new people and working on different projects. I do try to plan my days or I don't get much done otherwise. Once I've had a coffee and a chat to the other people in the studio I get to work.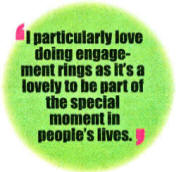 My range is a personal luxury brand that understands how mass production markets have standardised tastes and trends in the jewellery market. My intention is to facilitate a renaissance in the silver and jewellery trade, re integrating our incredible local history of silver and body adornment into the 21st century home and lifestyle.
I believe that luxury is not about how much you have to spend but is defined by taste, the art of choice and tinted with the unexpected, whatever the budget. The commissions grow organically fuelled by narrative, it is jewellery with a story, the client's story.
My clients range from churches, people getting married, Council's and individuals who want a bespoke piece of jewellery or silver piece for themselves or a loved one. I really enjoy the variety. As well as this I work on my own collections so I am never off the go, which is super.
Usually the client gets in touch and then I arrange to meet them to find out what it is they are after. I'll take notes and get a feel for what they want. Then I'll go back to my studio and come up with a design which I show them and let the client tell me if they want to change anything. If its a couple getting engaged I will source the stones they desire from a merchant and then go to work on their individual design.
Most people will have a budget and I will work around this. I start the design in wax for jewellery pieces and then I will show it to the customer and they will be able to see what it is going to be like. Once I get the go ahead I then get it cast and there really is only one shot at this and you just hope for the best. When it comes back I clean it up and make sure it is perfect after a lengthy polish. I'll then ask the customer to come and look at it and they usually walk away with it very satisfied.
I particularly love doing engagement rings as it's a lovely to be part of the special moment in people's lives.
I really enjoy my work and I get a real blessing from doing it. It's not easy and I do work long hours and don't get much sleep but it is definitely worth it.
Ulster Star
09/12/2011