When the Gobbins were a bigger draw than the Giant's Causeway
by Paul Cormacain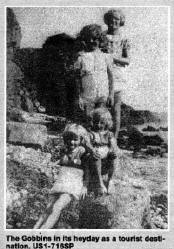 AS we happened to find ourselves in Carrickfergus lately, we found ourselves going through Carrig to get to the Gobbins at Islandmagee.
A great spot the Gobbins, although a European visitor had an unpleasant experience there recently until a passing canoeist rescued her. She may think bad thoughts about the Gobbins, but since the first time our father brought us there when we were children, we never had other than good thoughts about the Gobbins.
An east Antrim journalist, Anne Purdy, tells us that in its heyday the Gobbins path round the base of the cliffs attracted more visitors than did the Giant's Causeway.
Both the well-to-do and the "working classes" of Belfast used to visit the Gobbins.
They took the train from Belfast to Ballycarry, and then frequently walked to the famous pathway. A hundred years ago you could take a jaunting car from Ballycarry train stop to the path, for a "moderate charge".
We saw a pygmy shrew caught on a thorn, an unusual sight. Shrews tend to live a secretive life, tend to keep themselves hidden, well they would be easy game for a bird of prey.
We walked around a short part of the path, to look at the cormorants and condemn the people responsible for letting the path go to wreck and ruin. This path was established over a century ago and was a great engineering feat as well as a great attraction. Then the powers that be allowed it to go to pot, occasionally paying lip service to its restoration, but doing nothing.
I must have a word with those people in that useless white house on the hill, and enquire what they are going to do about it.
Cormorants were off-shore, fishing, eating, resting, swimming. They always seem to be hungry, just like children. Many of them nest quite happily on the local cliffs, and now that the path is virtually unusable they have even more privacy.
Many other types of birds reside at the Gobbins. (I have just found the old name for this area, 'Na Gobain'). It is believed that an old Scottish family called Magee used to own most of this area, hence the name Islandmagee.
You could see guillemots and razorbills at Na Gobain. I have seen puffins there in the past, and the Gobbins is one of the few places where they breed locally. Most people find it finny to see a puffin. It has a comically coloured and shaped bill. Its head also looks funny and ill-shaped. Its legs and feet are the "wrong" colour. In fact it looks like a bit of a bird clown!
I have seen black guillemots at the Gobbins, but am not quite sure if they nest there. Fulmars and kittiwakes live at the Gobbins, with kittiwake nests perched precariously on cliff faces. I always think that choughs should live and nest here, but I have yet to see one there.
Birds of prey nest on the cliffs. Kestrels at least nest there, and I would not be surprised if the odd peregrine aboded there also. Doves and starlings live in the caves along the base of the cliffs. I have seen swallows there in the past, so would not be surprised if they nested there.
There are robins and wrens about, with blackbirds, and the mistle and song thrush. I have seen different types of tits in the past, long-tailed, blue, coal and great tits. Then of course there are the gulls, great black-backed, lesser black-backed, herring gulls and some common gulls.
In other words, there is a vast variety of wildlife in this scenic area. It is a delight to visit, and could be improved immensely if only the powers-that-be would remake the path. Maybe it is time for another campaign.
Coming Events
Sunday 11th January - The Wildlife Trust is looking for volunteers to help clear scrub that is invading the grassland at Milford Cutting near Armagh. Anyone out there game enough, or strong enough? If so call Malachy Martin on 4483 0282
Saturday 17th January - Box-building for birds, bats, bees, at Lough -Neagh Discovery Centre. Why not phone them on 3832 2205.
Monday 26th January - Hear Janet Wilson talk about the Wildlife and Culture of Kenya, at Lisburn RSPB at Friends Meeting House, 7.30pm.
Ulster Star
02/01/2004