Migration can also be a fishy enough tale
by Paul Cormacain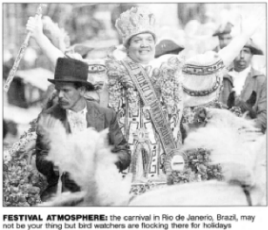 WE know how birds migrate, and we usually see many migrating birds each year. We also know about the butterflies that visit us each summer from north Africa and Europe.
But we tend to overlook the fish that migrate, many of them swimming thousands of kilometres to reach their destination.
Migrating fish comes into sharp focus after the news last week that some very intelligent folk south of here built a weir to avoid flood damage. So cunning was the weir that returning salmon could not ascend it and many of them perished.
The powers-that-be are going to get the weir sorted out as soon as possible, but it will not happen until next year's migration. And there will be many less fish.
I am nearly tempted to get myself a net, get to the weir, catch some salmon and dump them in the river well up from the weir.
One of our less spectacular fish migrants are trout. I tend to go and watch them each year. The place is a lake not too far from Belfast, where the fish spend most of their lives trying not to be caught by the fishing folk.
About the time the days start to lengthen, the trout start to flex their muscles and move upstream.
The place where I love to go to watch them is a large pool leading to a waterfall. The waterfall is manmade, below a bridge on a road which is now out of use.
A body can go to the bridge, look over and see the trout rushing from the depths of the pool. They come clean out of the water and can hit the down-falling water sometimes at the bottom of the falls, sometimes halfway up and sometimes they go clean over the falls.
You associate fish jumping up waterfalls with large healthy salmon. Strong fish they are, usually much larger than trout, and of course they make it look so easy. Then a comparatively smaller trout comes along, jumps a waterfall and I think it just looks magnificent. The trout I watch every year go up river into small streams and tributaries, where they breed.
Eels are also great travellers. They spend much time around our rivers, lakes and ditches, building up strength for the great journey.
I have seen eels travelling along the ground, wriggling from one water spot to another. It seems to me that this used to be a quite common occurrence, but of late I have failed to see any eels doing this.
The eels build up their strength, and when they are ready, they head off to the breeding grounds. These grounds are located many thousands of kilometres away, in the Sargasso Sea, in the Caribbean.
Why do trout jump waterfalls and move upstream to breed? Whey do eels swim all the way to the Caribbean to breed? Why do salmon travel all the way from cold Arctic seas to breed here? You could spend a lifetime studying these questions, and not come up with all the answers. But would it not be a fascinating life?
BIRD Holidays will take you to Estonia for £1,130, take you to Brazil for £2,990 or to Namibia for £2,690. These are a few of dozens of holidays available, and if you want further information contact Bird Holidays at 10 Ivegate, Yeadon, Leeds, LS19 7RE.
ANOTHER communication came from Bob Wilson, e-mail celtadmin@eircom.net. It also sounds fascinating, but totally different. It is to do with sustainable woodland management, and you would have to go away to Co Clare for 12 days to be a participant on the course.
You would learn to identify woodland flora and fauna, learn about different types of habitat and eco systems. You would learn to survey and assess a woodland site and learn the principles of sustainable management.
If you are interested, e-mail Bob.
Coming Events:
Sunday, February 20: National Trust is organising a meal and walk at Mount Stewart. More details from 028 9751 0721.
Thursday, February 24: Birdwatch Morning at Castle Espie, 11.30. Tel 028 9187 4146.
Ulster Star
19/02/2005